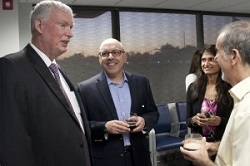 Fair Lawn, NJ, April 26, 2016 --(
PR.com
)-- In October 2015, New Jersey Associates in Medicine introduced its newly renovated patient reception area, a redesigned and newly outfitted IV therapy suite, the dedicated Saturday patient services area, and the updated laboratory facility. With many from the community including Fair Lawn's Mayor John Cosgrove, friends and associates in the medical field, plus representatives from the Broadway Special Improvement District (SID), the commemoration of the grand re-opening was an informative and enjoyable event.
Since last Fall, growth and progress hasn't slowed. The New Jersey Associates in Medicine patient community continues to grow as the list of specialties and services evolve and expand. The demand for Sleep Medicine has declined, but in its place expanded wellness and fitness programs have been added. "The future of healthcare must place an even greater emphasis on wellness. Thus our expanding collaboration with our partner, MedPro Wellness, here in our Fair Lawn office is extremely important. And, to further extend the convenience we offer our patients we've added an office in Ridgewood, NJ, as Margaret Co, MD has joined NJAIM to provide expanded Allergy, Asthma and Immunology specialized medical care in both the Ridgewood and Fair Lawn offices," according to Dr. Jack V. Cappitelli, President and Managing Partner, NJAIM.
"Along with Dr. Co, others are part of a growing group of physicians who make New Jersey Associates in Medicine their choice for helping to serve the health and medical care needs of upper Bergen County. Dr. Karen Balonze, joins us as a specialist in Internal Medicine. Dr. Preethi Ramaswamy, a specialist in Dermatology, is bringing her practice to NJAIM offices several times a month. And, with these new additions we can't overlook those from the Fall and Winter months, including Drs. Jijin Chacko, Hospitalist; Cristobal Goa, specialist in Cardiology; Rajesh Pandey, specialist in Rheumatology; and Harmit Kalia who specializes in transplant Hepatology and brings his New York Montefiore Health System practice to NJAIM offices several times a month," states Stephen Lumsden, Executive Director, NJAIM.
As New Jersey Associates in Medicine works to continue its long standing place as one of Bergen County's most respected medical group practices, it is also committed to staying connected with the physicians, businesses, government agencies, and others who refer patients and recommend associates and family members to NJAIM for health and medical care. As part of this commitment NJAIM is holding another Open House Thursday Evening, May 19, 2016, from 6:30 pm until 9:00 pm at 31-00 Broadway, Fair Lawn, NJ. Dr. Cappitelli together with NJAIM partners, associates and staff will be on hand to greet guests, share adult beverages and savory hot hors d' oeuvres, and enjoy a socially relaxing evening.
That evening New Jersey Associates in Medicine will also be welcoming Mr. Bart Oates, President of the NJ Chapter of the NFL Alumni Association and 3-time Super Bowl Champion with the NY Giants & SF 49ers who will join the festivities to help kick off the Grand Opening of the NJAIM and MedPro Wellness fitness facility. Mr. Oates has graciously agreed to commemorate the opening with a signed football to be prominently displayed in the new facility.
Members of the surrounding medical and business communities; plus, members of local government, news outlets, community groups, NJAIM family and friends are invited to attend and see what comprehensive, quality and convenient healthcare looks like in an updated, modern medical office. The Open House will begin at 6:30 PM and end at 9:00 PM. Visitors will have the opportunity to tour the entire facility and speak with Dr. Cappitelli, Stephen Lumsden, members of the administrative staff and many of the doctors.
For more information about the May 19th, 2016 Open House please contact Michael Thomas, President, Trestle Point LLC at: 215-741-4505 or mthomas@trestlepoint.biz.