Houston's Own Contour Interior Design Behind Anticipated 51fifteen Restaurant Design Concept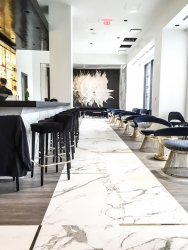 Houston, TX, April 28, 2016 --(
PR.com
)-- Contour Interior Design announces the completion of the highly anticipated new design for 51fifteen Cuisine and Cocktails located on the second level of Saks Fifth Avenue.
The interior design firm conceptualized and completed both the interior architecture and interior design and for the new restaurant, and 1st floor bar. The project was the brainchild of Principal and Creative Director of Contour Interior Design, Nina Magon and the design was executed by both Nina and Lead Designer, Mia Yamada. The project spanned a year and a half from concept through completion and was built by Construction Concepts. The new restaurant design comes with many new upgrades including a private lounge area and two separate private dining areas available for event space reservation, vastly larger bar area for customers to sit and enjoy, and expanded dining room with a variety of seating options.
"Since Saks Fifth Avenue is an iconic store, we wanted to exemplify that iconic style in the design of the new restaurant. No other restaurant in Houston uses the combination of mid-century modern pieces such as the Saarinen chairs by Knoll or the famous Serge Mouille light fixtures, with the classic color scheme of white, gray, black, brass and white stone, in one cohesively designed space. Therefore, with this design, we truly wanted to create a space that would make a design statement in Houston, as well as represent timeless design with a modern twist," said Nina Magon, Principal Designer at Contour Interior Design.
The new design features three recurring themes throughout the entire restaurant to create a cohesive design. The themes consist of a Dekton material by Cosentino that mimics classic Carrara marble for added glamour and sophistication, brass details to create an upscale feel, and hexagon and octagon shapes to add an element of playfulness.
"Although we used three overarching themes in the restaurant, we wanted there to be a lot of design surprises for the customer to have a different experience in every seating area of the restaurant."
These surprises are noted as the blossom lighting by LightArt that are clustered in different sizes and heights for a dramatic entry look; a large scale Wall & Deco super graphic wallpaper that echoes the blossom theme in the entry ceiling; and stepped octagon wall in the main dining area.
The new 8,500 square-foot restaurant also includes a variety of custom pieces all designed by Contour Interior Design, including custom coffee tables, ottomans, and banquette seating with brass edging in the private lounge, upholstered barstools, square banquettes with Dekton edging, serpentine seating, shark-nose edged tables with a Silestone surface, and two statement chairs from Magon's very own furniture collection launching this fall.
Lighting in the restaurant includes Coltrane Sconces by DelightFull, Blossom Lighting by LightArt, restroom chandeliers from Etsy, table lamps by Neoz, Flos lighting in the private dining, and iconic Serge Mouille sconces in main dining space.
For the main bar, a multifaceted jewel-inspired cut stone serves as the base. The bar's bottle display has brass shelves and details that are backlit 3form panels to create a glow. The private lounge features sleek lighting embedded into the wall and ceiling giving it a contemporary look and feel. Metal drapes dividers and brass details in the entrance of the private bar frame a picturesque look and feel upon entry.
"We are so grateful to work with such an amazing team of people and look forward to celebrating many great experiences in the space."
The interior design firm is set to host its very own celebration for the new design, Carnaval De 51fifteen, on Thursday, May 19th from 7 p.m. to 11 p.m. Sponsors include Houston Magazine, 51fifteen Cuisine and Cocktails, Saks Fifth Avenue, Bella Flori, Deep Eddy Vodka, Cosentino, Mango Punch and Construction Concepts. The event will be a Brazilian-themed Carnaval night benefiting Dec My Room. Tickets can be found at
https://www.eventbrite.com/e/carnaval-de-51fifteen-tickets-22711157684
.
The new 51fifteen Cuisine and Cocktails is located on the 2nd floor of Saks Fifth Avenue - Galleria, 5175 Westheimer Road. For more information on the interior design and architecture for 51Fifteen or Carnaval De 51Fifteen, please contact PR Manager Cherrie Braud at cbraud@contourinteriordesign.com.
About Contour Interior Design:
Contour Interior Design is an international, multi-award winning, full-service interior design firm with offices in Houston, Texas and Miami, Florida, specializing in high-end residential, commercial, restaurant and boutique hospitality design. Established in 2007 by Principal Designer, Nina Magon, Contour Interior Design has since earned a reputation for exceptional high-level design worldwide. The Contour portfolio includes a long list of award-winning interiors that have received national and regional recognition from NBC, BRAVO and HGTV Networks, as well as acknowledgement for Best Interior Architecture and Best Commercial Interior by PaperCity, and Best Commercial Interior by ASID, amongst others. Contour's work has also been praised in several distinguished magazines including: RUE, Elle Decor, House Beautiful, Interiors Magazine, Luxe Interiors + Design, and Hospitality Interiors to name a few.
In addition to these accolades, Principal and Creative Director, Nina Magon, was deemed "The Design Industry's Next It Girl" by POPSUGAR, "The Breakout Star" from season one of NBC's American Dream Builders by RUE Magazine, and a "Creative Force to be Reckoned With" by renowned interior and furniture designer, Nate Berkus. In 2015 alone, she was named "A Rising Star in Design" and celebrated as one of Modern Luxury's "Fresh Faces of Fashion" and in 2016, she has already been recognized at the "Best Contemporary Designer In Texas" by Interiors Texas Modern Luxury Magazine and her design blog won the national award for "Best New Blog" at the National Design Bloggers Conference in Atlanta. She was also one of the nation's 25 designers recruited by Elle Decor and Housing Works to participate in Design on a Dime Miami.
Magon attributes the company's success from it being rooted in the integration of design innovation, business savvy, and construction expertise.
Contact
Contour Interior Design
Cherrié Braud
713.722.0511
www.contourinteriordesign.com

Contact