Filmmaker Begins Pre-Production for Documentary: "The 33 Day War - The Hidden Truth" in an Effort to Determine How Does Peace Prevail
Hamid Karam's feature-length documentary will give people a voice who were affected by the war which took place in the summer of 2006, involving Lebanon and Israel.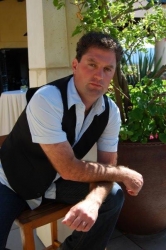 Detroit, MI, May 08, 2016 --(
PR.com
)-- Filmmaker, Hamid Karam began pre-production work on his forthcoming film entitled, "The 33 Day War: The Hidden Truth." This war occurred between Israel and Lebanon in the summer of 2006. Karam developed the script to include a focus of interviewing people who were on both sides of the war, Lebanon and Israel, in an effort to give people on both sides of the conflict a voice. He has set out to speak peacefully to both sides, so that each can share their story. It is no secret that many civilians lives were negatively impacted or lost, and in an effort to focus on giving those affected a voice, he plans to interview many. Karam stated in a recent interview, "War is not always the best solution. I believe firmly peace is the best solution for all, but how do we get there?" The question according to filmmaker Hamid Karam to be discussed through this feature length documentary film project is, "How do both countries get there?" According to Filmmaker Hamid Karam, this is one of the questions, at least in terms of others opinion that he plans to begin to answer through the interviews he is conducting.
The interviews to be included in the film itself will allow people from both Lebanon and Israel, many who experienced "The 33 Day War" firsthand, to be a significant part of this documentary in terms of their viewpoints.
Hamid Karam plans to attempt to discover answers to what he calls, "The hidden truth." The answers to begin to discover, according to Karam, include; the general and specific affects of war on nations, how both soldiers and civilians were affected from both Lebanon and Israel, what does each side want to discuss in this film, and finally according to Karam, a very important discovery to be found, "How can peace be achieved and how do both want to move forward in their relations to one another?" A big question to be answered, according to Karam and many others, "Did anyone gain anything from this war? And how is peace achieved for all, and finally who does peace start with?" This forthcoming film quite simply will give each side a voice, regarding where they were before and after the war, where they are now and to each individual who very much wants it, "How is peace finally achieved?" The film is set for production late 2016, with international distribution to occur in 2017. Hamid Karam is available to the media for interview opportunities. Should members of the media wish to discuss the forthcoming feature length documentary film "The 33 Day War: The Hidden Truth," please contact Karam directly at karam.hamid@gmail.com.
Contact
Hamid Karam Productions
Hamid Karam
586-441-9499
hamidkaram.com

Contact