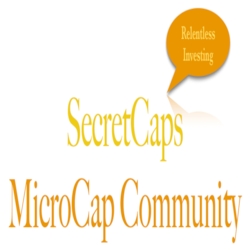 Red Bank, NJ, May 12, 2016 --(
PR.com
)-- "Reliq Health Technologies Inc. (TSX Venture Exchange: RHT.V) (OTCQB: FLNTF) is a technology company focused on developing progressive mobile health (mHealth) and telemedicine solutions for community based healthcare. As a $10.8M CAD nancap trading on the TSX Venture Exchange, Reliq targets the $20B community care market. With a new and experienced CEO leading a recent acquisition that is already bearing fruit, Reliq is worth diving into." - Tom Shaughnessy, CEO of SecretCaps
About The Company:
Following a reverse takeover in September, 2014 wherein Reliq acquired Mobsafety, Reliq has since evolved into its most advanced form of securing mobile healthcare and homecare. Formerly known as Moseda Technologies, the new management team just augmented the company's name to Reliq Health Technologies Inc. to better reflect the company's evolution from mobile secure data to its much larger community care market. The company's key offering is Yugo Health, a care coordination platform.
Access The Entire Free Report Now
About SecretCaps:
SecretCaps is the only free MicroCap community focused on finding high quality MicroCap companies driven by passionate and relentless management teams. SecretCaps' MicroCap content comprises research reports, blog posts, CEO interviews, educational posts, and member submitted content.
Disclosure: None of this content, or any content on SecretCaps.com, is a solicitation to buy or sell any security. Do not trade or invest based upon this content. The authors of this report have no position (long or short) in Reliq Health Technologies, Inc. This post is strictly informational and educational to provide information on Reliq Health Technologies. SecretCaps' full disclosure including any company compensation and positions for this report can be viewed at the bottom of the above link.