Montessori on the Lake Jogs for Free Wheelchair Mission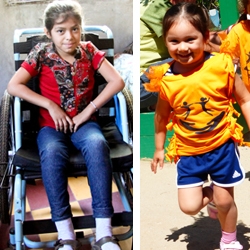 Lake Forest, CA, May 12, 2016 --(
PR.com
)-- How young is too young to think globally? At Montessori on the Lake (MOTL), a preschool through grade 8 school, children are never too young.
Every year since 2005 MOTL has held a jog-a-thon to raise money for a charitable organization. For the second time MOTL has selected to support Free Wheelchair Mission (FWM). In 2008, students raised enough money to fund more than 100 wheelchairs, and they're hoping to raise even more in 2016.
In April, students heard about the issue of immobility around the world when an FWM staff member came to their school in Lake Forest, Calif. They learned about the 100 million people without access to a wheelchair who are limited in their ability to go to school or work or participate in their communities. Along with their jog-a-thon sponsor form, students took home picture books reminding them of both the need and the solution.
The jog-a-thon will be on May 13, 2016, and every dollar MOTL students raise will go toward lifting lives off the ground in developing countries around the world.
About Free Wheelchair Mission:
Free Wheelchair Mission is a humanitarian, faith-based, registered 501(c)(3) nonprofit organization headquartered in Irvine, Calif. In collaboration with a network of like-minded partners, FWM has been providing wheelchairs to those in need around the world since 2001 providing dignity, independence and hope through the gift of mobility.
For more information about Free Wheelchair Mission, please visit freewheelchairmission.org.
Contact
Free Wheelchair Mission
Michele Werner
(949) 273-8470
www.freewheelchairmission.org

Contact