Dr. Claudia C. Cotca, DDS, MPH & Washington Institute for Dentistry & Laser Surgery Has Partnered with The Oral Cancer Foundation @dclaserdentist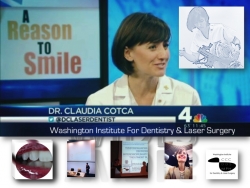 Chevy Chase, MD, May 18, 2016 --(
PR.com
)--
Dr. Claudia C. Cotca
, DDS, MPH on behalf of
Washington Institute for Dentistry & Laser Surgery
has partnered with The Oral Cancer Foundation in honor of Oral Cancer Awareness Month and will be extending annual free oral cancer screenings for the public on May 18th, 2016. Oral cancer has existed outside the understanding of much of the public, yet 48,250 Americans will be newly diagnosed this year alone.
Every hour, one person dies from oral cancer in the United States of America.
Oral cancer is on the rise. There are two distinct pathways by which most people come to oral cancer. One is through the use of tobacco and alcohol, a long term historic problem and cause, and the other is through the exposure to the HPV-16 virus, which is now the leading cause of oropharyngeal cancers in the US. Today, we are seeing young, non-smoking individuals as the fastest growing segment of the oral cancer population. When found early, oral cancers can have an estimated 80% survival rate. Unfortunately, the majorities are found as late stage cancers and this accounts for the very high death rate of about 45% at five years from diagnosis, potentially due to a lack of public awareness and a lack of a national program for opportunistic screenings.
Oral cancer is not a rare disease. Staggering statistics make these free events crucial, as awareness of the disease and its risk factors in the US population is so low. Please don't let your friends and family miss out on this opportunity for a free oral cancer screening. Call (202) 609-7911 and schedule your 5 minute appointment for your complementary screening.
Dr. Claudia C Cotca, DDS, MPH, is a 3 time graduate of University of Michigan, where she received a Bachelor of Science with Chemistry Degree and Cellular Molecular Biology, Master of Public Health in Toxicology, and Doctor of Dental Surgery. Dr. Claudia Cotca, an international lecturer and aesthetic restorative dentist founded the Washington Institute for Dentistry & Laser Surgery in Washington DC Metro, a private practice Institute with focus on technology driven protocols and interdisciplinary smile reconstruction within facial neurologic & skeletal coordinates, including oral cancer detection and early intervention.
Contact
Washington Institute For Dentistry & Laser Surgery
Dr. Claudia Cotca DDS MPH
202-609-7911
www.dclaserdentist.com

Contact
Multimedia
Dr. Claudia C. Cotca, DDS, MPH on behalf of Washington Institute for Dentistry & Laser Surgery has partnered with The Oral Cancer Foundation Complimentary Oral Cancer Screenings May 18, 2016 @dclaserdentist
Dr. Claudia C. Cotca, DDS, MPH on behalf of Washington Institute for Dentistry & Laser Surgery has partnered with The Oral Cancer Foundation Complimentary Oral Cancer Screenings May 18, 2016 @dclaserdentist