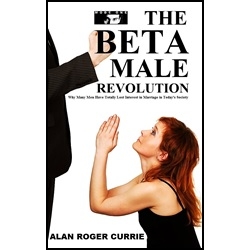 Hollywood, CA, May 20, 2016 --(
PR.com
)-- Studies have shown that there are more men and women who are 30 years of age or older who have never been married and have yet to raise any children in today's society than there have ever been at any point in this nation's history.
What has led to the drastic decline in marriage proposals among dating singles today?
There are a number of factors that both psychologists and sociologists feel have contributed to this trend, but one book author and professional dating coach asserts that most single heterosexual men in today's society are simply not interested in entering into long-term monogamous romantic relationships with women and/or strictly monogamous marriages any longer.
In his new book entitled, "The Beta Male Revolution: Why Many Men Have Totally Lost Interest in Marriage in Today's Society," Currie discusses that a segment of the male population in society commonly referred to as 'Beta male' types frequently view women in today's society as being too dishonest, too disingenuous, too manipulative and materialistic, and too sexually duplicitous and disloyal to become a man's wife.
"Both men and women do not trust each other any longer," said Currie, who has been a professional dating coach for men since 2006 and a BDSM and Polyamory lifestyle advisor and consultant for women and couples since 2010. "Women feel that most men cheat too much, and now men feel the exact same way about most of the women in society. Men want a woman who is going to be fiercely loyal to him as a wife, and the reality is, most men do not feel like women of this nature even exist anymore," added Currie, whose most popular book is titled "Mode One: Let the Women Know What You're REALLY Thinking."
Currie states in his new book that members of both genders suffer from the problem of wanting to 'have their cake and eat it too.' Currie believes many men want a woman who they perceive as a prudish and monogamy-oriented 'good girl' type as their long-term girlfriend or wife, but they want another woman who is kinkier and more promiscuous and/or polyamorous as their mistress or 'on-the-side lover.' Similarly, Currie believes that many women want to marry a friendly, accommodating, and financially generous 'Beta male' type, but they also want a kinky, erotically dominant, sexually satisfying 'Alpha male' type as a discreet lover behind their husband's back.
"Many men do not want to have to choose between the 'good girl' or the 'harlot' ... they would prefer to have one of each in their life. Same with women. Women do not want to be forced to choose between the affable and financially generous 'nice guy' or the kinky and erotically dominant 'bad boy' ... they would much prefer to have one of each in their life. That is just the reality of dating and relationships in today's society," added Currie, who was born and raised in Gary, Indiana and is an alumnus of Indiana University in Bloomington, Indiana.
Currie's Amazon Kindle eBook is available for pre-order right now, and will be available to read on Wednesday, June 1, 2016. For more details,
click here
.
You can visit Currie's main website for men at http://www.directapproachdating.com and his main website for women and couples at http://www.modeone.net/training/
Currie is available for newspaper interviews, magazine interviews, and radio & television interviews. Publicist: public_relations@modeone.net