SolarCraft Completes Solar Power Installation at Menlo Park Fire Station - Silicon Valley Fire Station Goes Green and Saves Money
Novato and Sonoma based SolarCraft recently completed the installation of a 41 kW DC solar panel installation at the newly constructed Station 2 Menlo Park Fire Department, Menlo Park, CA. The solar panel system will save the Station over $250,000 dollars in energy fees over the next 20 years.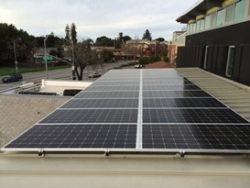 Novato, CA, May 26, 2016 --(
PR.com
)-- Designed and installed by SolarCraft, the solar photovoltaic system is mounted on the top of a two-story standing-seem roof and consists of 126 American-made, Suniva 325-watt solar panels, providing 53,700 kWh of sustainable solar power annually. The excess energy is fed back to PG&E, reducing the energy pressures on the local power grid.
"This is our first solar project, we are looking forward to the benefits it will bring to the energy consumption and reduction of a modern, working, fire station," said Fire Chief Harold Schapelhouman. "We will be including solar power to all future fire station projects based upon an improved return on investment to the community."
SolarCraft was selected for their expertise and ability to design and engineer a system to meet the unique demands of the Fire Station for a high-performing reliable system with low operating costs and risks.
Over the life of the system 420 tons of carbon dioxide will be eliminated from the Station's carbon footprint, which is the equivalent of removing nearly 1 million miles of driving over the next 25 years. That's also comparable to the air pollution removed by more than 3 acres of trees.
About Menlo Park Fire District
The Menlo Park Fire District, which also serves East Palo Alto, Atherton and unincorporated areas of the county, turns 100 this year. Adding solar and other energy efficiency measures is part of the plans for new construction to grow resources. The newly built Station 2 is critical because it covers an area expected to see the most development over the next 20 years.
SolarCraft, a 100% Employee Owned Company, is one of the most trusted and experienced solar energy contractors in California. Since 1984, this certified Green Business has been providing high quality solar electrical, solar pool heating and solar water heating services to homeowners and businesses, employing licensed and certified solar installers. With more than 6,000 satisfied customers and over 3 million square feet of solar collectors installed, SolarCraft is committed to Quality Design, Quality Materials and Customer Service.
www.solarcraft.com
Contact
SolarCraft
Kim Burnett
415-382-7717
www.solarcraft.com

Contact