Brett Dennen Adds Winemaker to His Resume in Time for Bottlerock Napa Valley
Brett Dennen's 93 point highly rated sparkling rose Charismatic Fool was picked by VinFormant wine merchant in Napa Valley as their official wine for Bottlerock.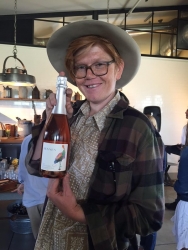 Napa, CA, May 27, 2016 --(
PR.com
)-- Singer, songwriter Brett Dennen is adding winemaker to his resume, just in time for Bottlerock, Napa Valley. As he releases his latest album "Por Favor" his 93 point rated sparkling rose "Charismatic Fool" by Dennen & JW Thomas wines was picked by VinFormant as their official wine for Bottlerock. This amazing bottle of Sparkling Bubbles can be signed by Brett Dennen at www.vinformant.com
The "Charismatic Fool" Sparkling Rose was rated 91 Points by Wine Spectator and 93 Points by VinFormant and will only be featured for the next 48 hours during BottleRock at Napa Valley's Fine Wine Retailer VinFormant.com.
"Don't let its gorgeous light hue of pink fool you, this is a serious bottle of sparkling that I would compare to the finest California has to offer. This sprightly bubble opens with hazelnut and wild strawberry aromas that lead into lively fruit, candy covered apricots and watermelon that will dance on your palate. Take a walk on the wild side, this wine is creamy from start to finish and shows maturity and hints of nutella throughout. Simply put, Charismatic Fool rocks!" 93 pts.
- Jenny Lynn VinFormant.com
Brett's album "Por Favor" is #1 on ITunes Singer-Songwriter Chart. He has added nationwide tour dates including Hangout Music Festival, Bonnaroo, Newport Folk Festival and Austin City Limits.
"The sound of Brett Dennen's voice captures the feeling
of sitting in hazy sunlight." - Esquire
For more information, please contact Jenny Lynn 707.927.5688 Info@VinFormant.com
Contact
Vinformant
Jenny Lynn
707-927-5688
http://www.vinformant.com/

Contact