Tenor Anthony Kearns to Open the 2016 National Memorial Day Parade Program in Washington, D.C. on Monday, May 30, 2016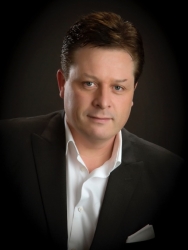 Washington, DC, May 29, 2016 --(
PR.com
)-- World-renowned tenor Anthony Kearns will open the 2016 National Memorial Day Parade Program in Washington, D.C., on Monday, May 30, 2016 at 2 p.m. Eastern., it was announced. Mr. Kearns will sing "America the Beautiful" with a 200-member chorus at the top of the televised program.
This year's theme is "Saluting our Fallen Heroes from the American Revolution through Iraq and Afghanistan." Highlights will include a tribute to the World War II generation, remembering the Gulf War, and honoring the fallen of September 11, 2001. Television coverage will include REELZ Channel, News Channel 8 in Washington, DC, and coverage to our military personnel worldwide on American Forces Network. It will also be made available online by Defense TV, Military.com, and at NationalMemorialDayParade.com.
"Anthony Kearns is one of the most highly-acclaimed tenors of our time, and we welcome him back to the 2016 National Memorial Day Parade. I look forward to a powerful opening performance in what will be a very special afternoon in honor of our fallen heroes," said Tim Holbert, executive director of the American Veterans Center.
"It's my privilege to sing 'America the Beautiful' to honor those who paid the ultimate price in defense of this great nation and freedom around the world," said Mr. Kearns. Earlier this week, Mr. Kearns headlined the John F. Kennedy Center for the Performing Art's "Ireland 100" celebration of the 1916 Easter Rising.
A seasoned performer in the nation's Capital, Mr. Kearns has gained recognition for his many performances in the Washington D.C. metro area, including the 2014 National Memorial Day Concert at the U.S. Capitol for PBS. He has also performed at various events for the U.S. military, as well as for governors, foreign ambassadors, and bipartisan Members of Congress. Last weekend, on Armed Forces Day, he was the featured performer during the Military Tribute of the 141st Preakness Stakes. In 2012, he was a featured guest on the PBS Special, "America's Veterans: A Musical Tribute."
Mr. Kearns took the television audience by storm in 1999 as the youngest member of The Irish Tenors, with whom he has 10 CDs. Their CDs have gone Gold, Platinum and Double Platinum. Kearns has a robust international solo career, performing at charity concerts, in operas, and with the world's finest orchestras. He has had the honor to sing for three U.S. Presidents, the chairman of the Joint Chiefs of Staff, and Pope Francis I during the pre-Mass Concert in Philadelphia.
The National Memorial Day Parade is the country's largest Memorial Day event, drawing hundreds of thousands of spectators to pay tribute to those who have served, are serving, and most importantly those who have made the ultimate sacrifice in service of our country. This year's event draws an impressive roster of celebrity guests including actors Gary Sinise and Joe Mantegna, Chef Robert Irvine, 2016 Miss America Betty Cantrell, and astronaut and Korean War combat pilot Buzz Aldrin. Television news anchor Paul Berry, a Vietnam veteran, will host this year's Memorial Day celebration, along with television news anchor and correspondent Rita Cosby, and 2008 Miss America, Kirsten Haglund. Besides Kearns, other featured entertainers will include American Idol's Trent Harmon; award-winning country music star John Michael Montgomery; legendary entertainer Tony Orlando; Phil Vassar, Billboard Country Songwriter of the Year, and the New American Freedom Train Show.
The parade is founded and organized by the American Veterans Center, dedicated to preserving and promoting the legacy of our military personnel.
Mr. Kearns' appearance was arranged by Kirsten Fedewa & Associates, L.L.C.
For more information, contact Kirsten Fedewa (on behalf of Anthony Kearns): inquiry@fedewaconsulting or 202.365.6936.
Contact
Kirsten Fedewa & Associates
Kirsten Fedewa
202.365.6936
fedewaconsulting.com
www.anthonykearnsmusic.com

Contact