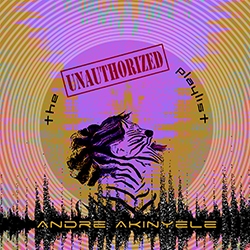 Alexandria, VA, June 01, 2016 --(
PR.com
)-- Taking cues from contemporary hip-hop, R&B, and "neo-soul" visionaries, such as Pharrell Williams, Erykah Badu, and D'Angelo to create a distinctive consciousness, "The Unauthorized Playlist," released on Orange River Records, uses underground hip-hop, funk, and futuristic sounds to explore the madness of keeping secrets, the anger of friendship betrayal, and the rise of self-empowerment.
Andre Akinyele is slated to release "The Unauthorized Playlist" on June 3, 2016, available at iTunes, Amazon, and CD Baby. The album features thirteen tracks including "After Dark," "Alright Tonight," "Keep Movin': Who's on the Telephone," and "Up" and features special guests MV, LoLo, Big Mike, Lil O, DJ Glo, GDP, and FV. Hear and order "The Unauthorized Playlist" now on
iTunes
!
With pristine vocal arrangements on top of an ol' skool vibe, Andre Akinyele's new album is a worthy contrast to his earlier works. "The Unauthorized Playlist" is sexy, direct, and intimate with songs like "Jam All Night," "Turnin' Me To Stay," and "Midnight," with the latter evoking R&B/Soul singer Maxwell. The album backs away from the typical mixtape scheme and introduces a playlist concept. "The Unauthorized Playlist" is one of Andre Akinyele's most electrifying, eccentric works.
The track listing for "The Unauthorized Playlist" is as follows:
1. Give & Take
2. What a Day
3. After Dark
4. Turnin' Me to Stay (feat. MV)
5. Jam All Night
6. Sky's the Limit
7. Alright Tonight
8. What You Really Want (feat. LoLo & Big Mike)
9. Keep Movin': Who's on the Telephone (feat. Lil O, DJ Glo, & GDP)
10. Midnight (feat. MV & FV)
11. Sweet
12. Up (feat. FV)
13. Need & Want
About Andre Akinyele
A radical in his own right, Orange River Records recording artist and multi-instrumentalist Andre Akinyele has defied stereotypical genres to focus on his diverse musicality, a conscious rejection of mainstream conformism. Almost two decades into his music career, he remains a magnetic and viable presence in the music industry. After several successful albums with his band Gemini Soul, in 2012, he released The Potomac Syndrome, which was a return to his funk roots, Prince influenced sound, along with a nod to Lenny Kravitz. Hailed as one of his best efforts, the songwriting was mature and on point, as was his highly anticipated Orange River Records follow-up effort Metal Skin and Ivory Birds (2015) that questioned the world where no one or nothing was off limits. He is also the co-author of the acclaimed book "Elliptical: The Music of Meshell Ndegeocello."
Artist Website:
www.andreakinyele.com