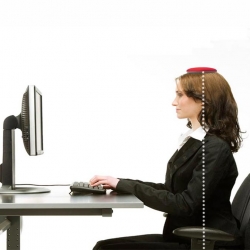 Las Vegas, NV, June 07, 2016 --(
PR.com
)-- The leading posture review website Posturesorted.com awards Posture Crown 4.3 points out of 5 on its latest ranking of posture correctors. Posture Crown is a simple and ingenious device that uses body's natural abilities to optimize spinal alignment. Inspired by classic book-on-head method to correct posture, Posture Crown is a soft weighted pad that slides off head when body tilts excessively. It applies scientific findings on carrying weight on the head, as well as the body's natural alignment reflex, known as proprioception, to correct posture. Poor posture can cause back and neck problems, which according to Georgetown University affects some 65 million Americans at any given time, and is the leading cause of work-loss days.
Posturesorted.com ranks posture correctors based on effectiveness, durability, ease of use and price/value ratio. Ease of use together with Posture Crown's science based methodology are main reasons why Posture Crown's scored high. Users can instantly place or remove the device while carrying on with daily activities such as computer work or watching TV.
The simple design also makes the product lowest cost of any posture correctors in the market, making it affordable for anyone.
The report on field trial by Posturesorted.com concluded "In a word, yes [it works]. Our tester ended the trial with a stronger head posture than when they started."
"Behavioral change such as optimizing posture requires long-term care, and simple and easy solutions offer the best way to achieve it," says Magdalena Wingelaar, a Posture Crown executive. She adds "Given the science based methodology and convenience to use it, I sincerely believe Posture Crown is the most efficient posture corrector in the market".
Good posture can prevent back and neck pain that, according to American Physical Therapy Association, nearly two third of Americans suffer from in their lifetime. Further, strong posture establishes positive non-verbal communication and has major impact on how individuals are perceived.
About Posture Crown
Posture Crown was launched in 2015 in Las Vegas as international supplier of its flagship posture corrector. The company manufactures and distributes the products through its web outlet to businesses and consumers across US. For more information visit www.posturecrown.com
About Posturesorted.com
Posturesorted.com is the leading posture review website that provides independent assessment of available posture correctors in the market. For more information visit www.posturesorted.com