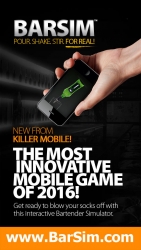 Las Vegas, NV, June 06, 2016 --(
PR.com
)-- Killer Mobile Software LLC recently announced the launch of their long awaited Bartending Simulator BarSim™, a revolutionary Mobile Bartending Game that quite literally replicates the entire drink making process. What makes the Bartender Game truly innovative, is the true-to-life "Action Gestures" which allow users to simulate the actual moves required to make a drink including everything from Shaking, Stirring, Straining, Muddling & Pouring.
"We really strived to build something innovative, something fresh," stated Killer Mobile Founder Josh Alner, going on to say, "We wanted to avoid building one of those mind numbing, simple finger tapping games such as 'Candy Crush.' Our Goal was to build a game that when you got done playing, you would have actually learned something, accomplished something - our goal was to truly replicate real life, but inside of a mobile app."
Scoring within the Bartender Game is equally realistic. Players are scored based on Time, Accuracy, Presentation (Glassware, Garnishes) & even Flair Moves. The amount of time you stir, shake, muddle or blend is counted. The speed at which liquids pour is even true to life. "This Bartender Games is quite literally as real as it gets. We spent months fine tuning the little details. We fought hard not to dumb things down, and instead make this a true representation of the physical & mental act of making cocktails," said Alner.
Despite the realism, BarSim™ is still a game at heart, and offers three different Game Play options to keep users engaged and most importantly, having fun. These include Practice, Career/Story, & Head 2 Head modes.
BarSim™ is packed with other goodies including the ability to customize your own speed rack, earn tips which can be used to upgrade your Bartender Tool Box, and other in-game features and the option to add & edit drink recipes you can practice right inside the game.
More information on this truly innovative & original Bartender Game can be found at www.BarSim.com. BarSim™ can be white labeled & customized for restaurants, bars, brands & marketers. Contact Josh@KillerMobile.com for more information as well as to inquire about sponsorship opportunities.