Corporate Humor and Specialty Stress Comedy Well Received by Military Yellow Ribbon Servicemen
Corporate comedy to find humor in stress not just great for businesses and associations but also for the military men and women getting ready to deploy.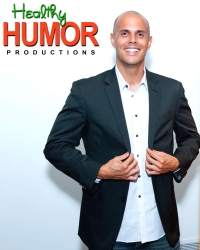 Gilbert, AZ, June 08, 2016 --(
PR.com
)-- According to Healthy Humor Productions, tragedy and stress are two of the main ingredients to writing stand-up comedy jokes and humorous material. We all experience stress each day, which can be a blessing for comedians but not so great for those who aren't.
Recently, Robby Wagner, who is a corporate comedian on the topic of wellness and stress and also the owner of Healthy Humor Productions, presented two of his comedic programs for the Yellow Ribbon Reintegration Programs for servicemen getting ready to deploy for their first time. There were endless laughs, applause and prize giveaways during the game show portion of one of his presentations, "Sweatiquette," where everyone laughed and did squats together early in the morning. The humor therapy, game show, and inspirational talk went so well that not only was he invited back for a second event, but a third one, as well. "I normally do these presentations for company meetings and associations but nothing has been more of an honor to help bring joy and offer an outlet to find humor everyday for our servicemen and their families," says Wagner.
Robby offers a personalized signed copy of his book "My Burpee's Shadow" free to each servicemen at Yellow Ribbon to further bring laughter and inspiration as they get ready to go overseas. The book shares personal struggle and tragedies through a series of short, comedic stories. "I can only imagine life would be lonely and a bit scary where they go, it's the least I can do for them as they do so much for all of us," says Wagner.
The next Yellow Ribbon event Mr. Wagner will be presenting at for two days is held on August 8th and 9th, 2016 where he will be doing his "Sweatiquette" Clean Comedy and Game Show and his humorous motivational memoir "Laugh, Grow, Change." Although, the presentations are educational and inspiring, he's really looking forward to bringing big laughs and smiles to all who are getting ready to go on tour. According to Wagner, "It's not about the stress or how long we have it, it's about what we do in that time when it's weighing in on us, we should be laughing and always finding humor in everything around us."
Contact
Healthy Humor Productions
Robby Wagner
480-747-2990
www.robbywagner.com
http://www.facebook.com/comedianstoryteller

Contact