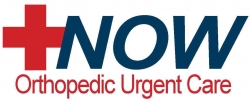 Columbus, OH, June 15, 2016 --(
PR.com
)-- OrthoNeuro has expanded its medical services in Pickerington to include a new state of the art orthopedic urgent care center. Board-certified, sports medicine fellowship trained physician, Sandy Lane, MD, FACSM to be the primary physician treating at the new OrthoNeuro NOW orthopedic urgent care.
OrthoNeuro NOW opened today in Pickerington at 1240 Hill Road North. Hours for the new center are Monday - Friday, 12pm - 8pm and Saturday, 8am - 12pm. This facility is located in the newly renovated Sherman Center Plaza. This 4,800 square foot space accommodates the new orthopedic urgent care and physical therapy clinic. The new center is in close proximity to OrthoNeuro's physician office located in the OhioHealth Pickerington Medical Campus on Refugee Road. This new space will allow OrthoNeuro to provide patients in the community of Pickerington and surrounding areas same day access to an orthopedic specialist trained to treat all sport related injuries as well as general musculoskeletal conditions. Injuries and conditions that will be treated at the center include: sports injuries, closed fractures, sprains and strains, back and neck pain, pinched nerve pain, muscle pain, and workers compensation injuries. This is OrthoNeuro's second orthopedic urgent care. The first center opened in 2011 and is located at 1313 Olentangy River Road in Columbus.
"I am excited to provide the community of Pickerington quick access to an orthopedic specialist at our new center," said Dr. Sandy Lane. "As a fellowship trained sports medicine physician at OrthoNeuro, I care for athletes and non-athletes with acute and chronic musculoskeletal injuries related to sports, work and play."
OrthoNeuro physicians specialize in the areas of: outpatient and minimally invasive surgery, joint replacement, sports medicine, foot & ankle, hand, headache, shoulder, spine, neurology, and physical medicine & rehabilitation.
For additional information about OrthoNeuro NOW, please call 614-839-3245. For a list of physicians and services that OrthoNeuro offers at its new Pickerington locations, please visit
www.orthoneuro.com/Pickerington
.
OrthoNeuro
OrthoNeuro is a multidisciplinary center of board-certified physicians specializing in orthopedic surgery, neurology, spine surgery, and physical medicine and rehabilitation. With offices in Westerville, New Albany, Grandview, Pickerington, and Dublin, OrthoNeuro is committed to providing patients throughout Greater Central Ohio with convenient access to exceptional patient care. For more information about OrthoNeuro visit
www.orthoneuro.com
or call 614-890-6555.