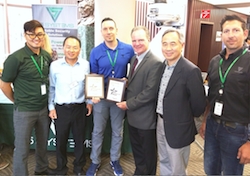 Fremont, CA, June 21, 2016 --(
PR.com
)-- V5 Systems, a leader in innovating wireless, on edge, intelligent security, power and computing solutions for the Industrial Internet of Things (IIoT) network received two awards: "Best Smart IIoT Security and Best Smart City / Smart Home Awards" at the 2016 Smart City Conference & Expo, in Santa Clara, CA.
The Fourth Annual Smart City Conference & Expo, hosted by the Silicon Valley Chinese Technology & Business Association (SVCTBA), focused on green energy, smart transportation, IIoT, and the Big Data to empower individuals on continually improving urban life experiences. This year's startup product/service pitch contest had four different categories, with V5 Systems winning two of the four awards. Dave Cortese, president of the Santa Clara County Board of Supervisors, presented V5 Systems with two out of the four awards for their Portable Security Unit.
V5's Portable Security Unit (V5 PSU) is the world's first wireless, multi-sensor, portable security solution for outdoor environments. This device has onboard analytics, proprietary power management, storage sensors, and communications. Highlights include:
- Wireless, off-the-grid power utilizing V5's proprietary, rapid charging power system that derives power directly from the solar panels.
- Portable and lightweight (less than 25 lbs.) for easy setup and deployment, creating the freedom to redeploy whenever needed.
- Multi-sensor functionality, including video, acoustic tracking system, and chemical detection.
- Gunshot detection (GSD) and gunshot location (GSL).
- Edge computing with advanced sensor analytics capabilities for objects of interest, sound, and chemical detection.
- Controlled IIoT architecture capable of running third-party applications.
- Up to 1TB of on-board storage for HD quality video retention on the edge.
- Communications through cellular connection: WiFi or RF.
V5 PSU can capture, analyze, and even interpret data in real time and relay this information to its users. Real-time transfer of data allows end users to respond proactively to a potential threat or issue rather than being reactive. V5's PSU can be added to extend existing security systems or be deployed as a standalone solution. Packaged in a lightweight ruggedized enclosure, this solution can be typically configured and installed in under 60 minutes per device for rapid, outdoor deployment.
"It was a pleasure to present our technology at this year's SVCTBA trade-show," said Mazin Bedwan, President and Co-Founder of V5 Systems. "We were able to see some of Silicon Valley's newest IoT offerings and were honored to win both awards."
About V5 Systems, Inc.
Founded in 2014, V5 Systems operates out of its facility in the city of Fremont, California. Its founders were intent on delivering a security solution that could be deployed in any outdoor environment, without the limitations of having to tap into fixed power. Their PSU eliminates the need for trenching and acquiring permits, while significantly reducing the deployment cost and time. V5's PSU is not only a self-powered security solution, but this intelligent device contains onboard computing, and a communications system that can capture, analyze, and act on sensor data, while relaying the information to its Android or iOS mobile device operators and users – via WiFi or cellular – or standard web browser in real-time.
Another major application of V5's PSU's is in the Industrial Internet of Things (IIoT). The IIoT is a network of smart devices, coupled with sensors of all types collecting sensor data and communicating between devices. The PSU, being a "smart" machine, can then perform analysis on the data (machine learning). Based upon this data analysis, alerts are sent to its users. Alerts describe the trigger-event-criteria and recommended actions to be taken, including real-time alerts. V5's PSU will become the de facto solution for the IIoT in all outdoor environments.
Website
www.v5systems.us
Email pr@v5systems.us
Phone (844) 604-7350
Silicon Valley Chinese Technology and Business Association
The SVCTBA (Silicon Valley Chinese Technology and Business Association), formerly known as the National Business Information (NBI), founded in 1987, is a global innovation and technology exchange platform that promotes member business developments in the US and Asia. Their goal is to support members who will build a strong, vibrant, collaborative entrepreneurial community with long-lasting business and social relationships throughout the Silicon Valley and beyond. The platform holds forums, seminars, and visits to China, Taiwan, and Hong Kong to exchange new knowledge, science, and technological information.
Since the late 90's, much of the US's manufacturing has been moved to China. As a result, the SVCTBA was the first high-tech organization to visit China and build relationships with high ranking officials of many different provinces and companies. V5 Systems has established and developed strong relationships with associations, science parks, civil servants, and politicians in China, which has helped to foster new opportunities. Additionally, due to the SVCTBA's reputation, many Chinese government officials and companies requested our assistance in recruiting and introducing new business opportunities.