Award Winning Manuka Sport Bee-Fit
The world's first energy gel to contain Manuka honey from New Zealand was Highly Commended for it's technical excellence at last week's Bridge2Foods Sports and Nutritional Conference in Holland. Manuka Sport Bee-Fit was launched this month by Family Foods Ltd. and has already received global interest.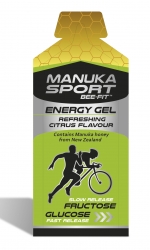 Lichfield, United Kingdom, June 23, 2016 --(
PR.com
)-- Manuka Sport Bee-Fit is manufactured by Family Foods Ltd based in the United Kingdom. Manuka Sport is the world's first energy gel to contain Manuka honey from New Zealand. Manuka Sport has been developed to maximise performance delivery, through fast / slow energy release whilst also delivering the natural health benefits associated with Manuka Honey.
Manuka Sport received a "Highly Commended Technical Excellence" award at the 6th Sports & Performance Nutrition Awards 2016, hosted by Bridge2Food in Holland.
Andrew Thain, director at Family Foods commented "We have been developing Manuka Sport Bee-Fit for over 16 months. It is a privilege to be recognised by Bridge2Food and we are very proud to be presented with this award." Andrew continued to say "The Manuka Sport brand is on an exciting journey, which includes partnering Kyleigh Manning from 42 Degrees Coaching, who will be attending Rio 2016 to support his athletes."
The sports nutrition market continues to grow annually and is becoming increasingly mainstream. Bridge2Food is a knowledge and network agency based in the Netherlands.
The Sports Nutrition conference brings experts from the industry together, to network and develop new business relationships.
For more information please visit www.manukasport.com
Contact
Family Foods
Andrew Thain
0044 7540267198
www.manukasport.com

Contact