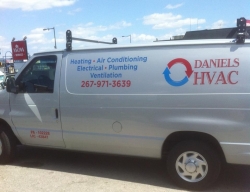 Philadelphia, PA, July 13, 2016 --(
PR.com
)-- Daniels HVAC & Home Services announces their new website with information on heating and ventilation repair, air conditioning repair, plumbing repair and electrical repair services. Their new website can be found here: www.danielshvacphiladelphia.com
It's always recommended to hire a professional HVAC (Heating Ventilation and Air Conditioning Systems) repair person to address all your HVAC needs, whether at home or a business. By doing so, the HVAC system keeps the house or business comfortable by regulating the temperature and air flow. Normally, residential HVAC repairs often involve vents, boilers, furnace or ductwork. The problem might be simple which homeowners can fix themselves however sometimes it will be an issue that requires a professional to handle.
Many people, especially homeowners in and around the city of Philadelphia, are confused on how to hire a professional HVAC person or whether to hire local workers to fix their home systems. Homeowners who are in a dilemma should understand the fact that HVAC systems have, on average, a life span of 10 years and it can continuing working if its handled properly and serviced by good technicians. The Professional HVAC experts at Daniels HVAC & Home Services will handle your home system carefully and maintain its condition so that you can continue to receive best from it.
Below are a few other benefits of hiring professional HVAC experts:
- One can save lot of money by hiring professional technicians, as they do maintenance services properly and avoid future damages.
- Professional Technicians will provide a clear breakdown of the work before committing to a job.
- Apart from providing quality services, they also provide valuable tips and DIY suggestions for homeowners to help maintain their residential HVAC systems.
How to choose the best HVAC Technicians?
Since HVAC systems are complicated, hiring professional and experienced technicians is wise to maintain quality HVAC functions.
First, make sure the chosen HVAC service provider is a certified worker and has experience to carry out such repair services.
Secondly, keep an eye out on the price structure. Because, often to grab a homeowner's attention HVAC service providers will list a low price by reducing the number of services they provide. It is wise to choose a service provider based on their service list instead of price factor.
Professional HVAC Repair Services in Philadelphia
Finding professional experts for HVAC repair in Philadelphia is never easy, as there are tons of ads pointing to HVAC repair in Philadelphia. Use the list above when picking the best HVAC service in Philadelphia. Daniels HVAC offers quality service when it comes to fixing all those repairs related to HVAC systems in and around Philadelphia, PA. Their experienced team also aims to provide the most outstanding support when it comes to heating services and repair in Philadelphia.
About Daniels HVAC & Home Services
Daniels HVAC & Home Services is a successful company with a commitment to providing HVAC installation and repair services at reasonable prices. Qualified staff use world-class resources to enhance their services and deliver professional, quality work which is expected by their customers. Daniels HVAC is happy to provide prompt support and first-class services to every customer.
Contact Details:
Phone: (267) 971-3639
Email: ndaniels5010@yahoo.com
Website: www.danielshvacphiladelphia.com