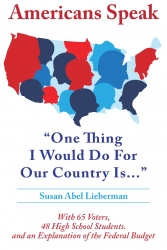 Houston, TX, July 14, 2016 --(
PR.com
)-- Susan A. Lieberman announces new book "Americans Speak: One Thing I Would Do For Our Country Is..."
In this intriguing book, 65 voters tell us one thing they would do for our country along with their bios and photos. 48 high school students chime in. A final chapter shows where federal budget revenues go and from where they are collected.
Find out how Americans of all kinds – old and young, black, brown and white, liberal or conservative – respond to this challenge. The replies underscore how difficult it is to address complex challenges but how eager we are to find answers.
In this election season, the voices of dozens of citizens speak out about their concerns. It isn't always what we hear from our politicians. We also learn why voters are hesitant to speak out.
People's passions, of course, are diverse. What seems to be common is the yearning for America to Be Better, Get Better, Do Better.
Book is now available on Amazon
$8 paperback