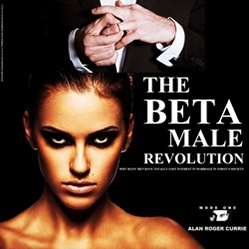 Hollywood, CA, July 21, 2016 --(
PR.com
)-- As a man, do the women you come in contact with perceive you as an 'Alpha' male? Or do the women you socially interact with perceive you as more of a 'Beta' male? What if you are categorized as neither one exclusively, but instead, women perceive you to be more of a highly appealing blend of both archetypes?
'The Beta Male Revolution: Why Many Men Have Totally Lost Interest in Marriage in Today's Society' is the fourth audiobook release by Dating Coach Alan Roger Currie and his company, Mode One Multimedia, Inc. Currie released three previous audiobooks between July 2014 and March 2015, and 'The Beta Male Revolution' is considered to be somewhat of a 'prequel' to his first three releases.
In this provocative audiobook, Currie examines the history of marriage in this country, and how the 1960s and 1970s permanently modified the attitudes that women have toward marriage, sex, and monogamy.
"Before 1960, just about all women wanted to wait until they were married before engaging in sex with a man for the first time, and most women expected to be married by no later than the age of 30. Over the next twenty years, that desire and expectation among women changed. Women began to become far more comfortable with the idea of engaging in premarital sex, casual sex, and giving birth to children without a husband being involved," said Currie, who has been an author and professional dating coach since 2006.
Currie asserts in his audiobook that because of the combination of new birth control methods, the Second Wave of Feminism, and the Free Love Movement (or what many referred to as 'The Sexual Revolution'), that women no longer sought the attention of just one type of man, but rather, different men to fulfill different roles in their lives.
Currie's new audiobook places men in four categories:
- Total Alpha Males
- Alpha males with a few Beta traits and tendencies
- Beta males with a few Alpha traits and tendencies
- Total Beta Males
Currie points out in his audiobook that in today's society, members of both genders want to spend time with some members of the opposite sex strictly for casual sex purposes, while they desire to spend time with other members of the opposite sex for either entertaining conversation, enjoyable social companionship, and/or emotional support and financial assistance.
Currie asserts that the Alpha males are the men who women are primarily drawn to because of their high degree of masculinity, erotic dominance, and overall sex appeal. Currie says that the Beta males are the men who women enjoy being flattered by, entertained by, and 'wined and dined' and spoiled with material gifts and financial favors.
"The problem is that most of the Beta male types have become very frustrated. Some of them feel 'used' and totally exploited by women for their financial and materialistic resources, while others feel either ignored or relegated into women's dreaded 'Friend Zone' forever. The reality is, no single heterosexual man wants to remain 'just friends' with a woman who they find to be physically attractive and sexually appealing. It was the complaints and frustrations expressed to me by the Beta male types that motivated me to publish this book," said Currie, who was born in Gary, Indiana and graduated from Indiana University in Bloomington, Indiana.
The audiobook version will be available for purchase on Monday, August 8, 2016 on Audible.com and also on
www.directapproachdating.com
The Kindle eBook version is available right now on Amazon.com
More biographical information about Alan Roger Currie can be found on Wikipedia.org