Life-Changing Accident Becomes a Ripple Effect
The amazing story of Michigan OB/GYN Dr. David Wolf and how a major accident paralyzed him, yet set him on a new, fulfilling path that has impacted thousands of people.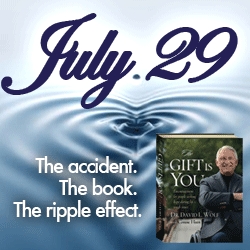 Wyandotte, MI, July 28, 2016 --(
PR.com
)-- No matter who you are, life can change in an instant. For better or worse, just one moment can affect everything about you — your family and friends, your career, and the entire direction of the rest of your life.
And it's up to you — and you alone — to determine how you adapt to a life-changing moment.
That's the kind of experience that Michigan resident Dr. David L. Wolf underwent, and it's one of the major themes of his book, The Gift IS You, available from Xulon Press.
A well-respected OB/GYN living in Michigan, Dr. Wolf was enjoying one of his favorite summer pastimes — racing go-karts. But in one life-altering moment, his go-kart crashed into the racetrack wall — smashing the vehicle to bits and leaving Dr. Wolf paralyzed from the waist down.
Instead of wallowing in sadness and anger, Dr. Wolf chose to use his accident as an opportunity to make a difference. Facing an arduous recovery and new physical limitations, he overcame the obstacles and not only got back to work, he began sharing his powerful story throughout Michigan and the country to inspire others through faith, hope and resilience.
Tomorrow, July 29, is the anniversary day of Dr. Wolf's accident (2001) and when his book was released (2014). July 29 is a day to celebrate the Ripple Effect that this extra ordinary man has created in our world.
Dr. Wolf welcomes speaking opportunities, and has traveled to present to high school football teams about Commitment, businesses and professional organizations about Change, church and ministry groups about Hope, and rehabilitation clinics about Strength and Encouragement. His message is offered for free and has changed many lives throughout Michigan and the entire country.
To contact Dr. Wolf about a speaking opportunity, please visit his website —
http://www.thegiftisyou.org
— or call (734) 284-3195.
"The Gift Is You" description:
Life was good for Dr. David Wolf. He had a loving wife and family, a successful medical practice, and the opportunity to train other doctors. He even found time for his hobby, adult go-kart racing. Those days were turned upside down when he was catapulted from his go kart as it slammed into a concrete wall. Tragedy did not mark the end of "the good life" for Dr. Wolf. Instead, the unexpected turn of events marked the beginning of a compelling adventure to encourage and help others. Dr. Wolf's story inspires others to press on, despite desperate circumstances or uphill challenges, and discover that, even in the face of tragedy, your life can make a difference.
Contact
The Gift Is You
David L. Wolf
734-284-3195
www.TheGiftIsYou.org
Marketing / PR Representative: Lauren Cleveland, Lauren@EnvisionWorksMarketing.com - 817.283.0101

Contact