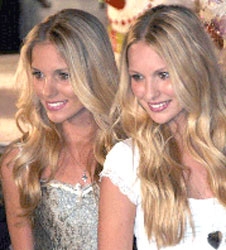 Hollywood, CA, January 17, 2008 --(
PR.com
)-- MAYO Communications, a full service international entertainment publicity firm based in Los Angeles has been retained by H20 Entertainment, Wilmington, N.C. for national publicity of Whittaker Bay, a TV drama that began airing on Jan. 5, 2008 on Superstation WGN.
Whittaker Bay is about four families - the Bannigans, Visteds, Coles and Hawkins - suburban elitists who seem to have the perfect life in their coastal North Carolina community.
The cast features twin sisters Kelly and Sabrina Aldridge from MTV's reality series, "8th & Ocean," and the feature film "Deck the Halls". Both were on hand for the recent premiere of Whittaker Bay at historic Thalian Hall in downtown Wilmington, which doubled as a fundraiser for the Make-A-Wish Foundation of Eastern North Carolina.
Sabrina Aldridge and Kelly Aldridge, the show stopping blonde twins
from MTV's hit show 8th & Ocean, are taking the entertainment industry by storm expanding their careers from modeling and television to acting on the big screen. The 22 year old sisters from Tampa, Florida are prospering in their newly developed mixed-media opportunities.
"If you ever watched MTV's reality series, 8th & Ocean, then you will definitely recognize the faces of twin sisters and Models of the Week, Sabrina and Kelly," said Producer Clint Allen, H20 Entertainment. "On the show, and in real life, the blonde beauties have a competitive nature between them that drives them to do their best." The sisters from Tampa, Florida, have appeared in national fashion campaigns for Laundry by Shelli Segal, endorsement deals with Acuvue contacts and Differin skin care, and are currently under the management of Irene Marie Modeling Agency. The duo was also recently voted one of Maxim Magazine's 10 hottest reality stars.
Reveille International, which produces Globe award-winning Ugly Betty, 30 Rock and House, has just signed Whittaker Bay. The drama, filmed on location in Wilmington, N.C., was spotlighted – along with one of its stars, Timothy Woodward Jr. – in the cover story of The Hollywood Reporter November special issue, Made in America.
Woodward also starred in Palmetto Pointe of 2005, an hour drama on PAX TV Network and featured stars from the teen drama 91210 and One Tree Hill.
Actor Timothy Woodward Jr., who plays the lead character Brayden Bannigan, feels humbled by his experience on "Whittaker Bay." "It's exciting to be a small part of something so big. The entire cast and crew are unbelievable."
Woodward described Wilmington, NC this way: "It's just a completely different environment," he noted. "The sets are a lot friendlier -- there's a lot more people who are hungry, who are straight out of school. But you also have people that have worked on all these major shows like (the CW's) 'One Tree Hill' and 'Surface.' It's not like New York or L.A., where it's more uptight, competitive and cutthroat. It's a lot of fun all the time," he told the Hollywood Reporter.
The show airs currently on Superstation WGN and Direct TV channels, and the 30 minute drama runs Saturday, 11:30 a.m. EST.
About MAYO
MAYO Communications is a full service international public relations firm, based in LA with offices in New York and San Diego and Bern, Switzerland. MAYO's niche is branding, media training, media placement, damage control and is known for award-winning campaigns that get results.
Some of MAYO's other clients include: Hydra Executives Reality TV show, Hydra Properties, LLC, Abu Dhabi, UAE; SafeMedia Corporation, Boca Raton, Fl; University of Southern California (USC), LA; Warrior Records, NY/LA; AJ Wells Productions, Hollywood; Singers Eddie Money, Benny Mardones, Aron Cowen, Seven Silvasy and Kelly-Lynn. MAYO added Internet Marketing and Web Design to its portfolio of services earlier this year. MAYO is a member of the Entertainment Publicists Professional Society (EPPS) board, Academy of Television Arts and Sciences, International Webmasters Association and Public Relations Society of America (PRSA).
For more about MAYO Communications visit:
www.MayoCommunications.com
,
www.LAentertainmentPublicity.com
, www.MayoPR.com, www.MayoGreenPR.com and
www.MayoPRSwitzerland.com
.
###