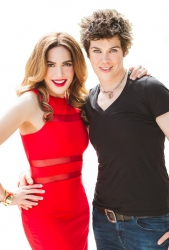 New York, NY, August 03, 2016 --(
PR.com
)-- Dr. Darcy Sterling, E!'s 'Famously Single' host/relationship expert and her wife, Stephanie Sterling, a couples therapist, release first-of-its-kind, nine-week online course called,
Relationship Skills Boot Camp
(RSBC).
"No one teaches us relationship skills, and then we wonder why the divorce rate hovers north of 50 percent," Dr. Darcy Sterling said. "Relationship skills need to be taught. We are not born with them. It's time to rethink biology and replace it with relationship education because clearly, what we've been doing in our relationships is not working."
Each week, RSBC participants will receive access to a video module where the Sterling's will teach skills covering Relationship Theory, Anger and Emotional Management and How to Keep Passion Alive.
According to Dr. Sterling, the course is not for everyone. "If you're looking to be a passive participant of information that you won't be held accountable for incorporating into your life, then this isn't the course for you," she said.
For this reason, the Sterlings are introducing a new approach for couples and singles looking to improve their relationship skills. Since active participation is vital to a user's success, participants will receive daily exercises that require practice. Over the course of the nine weeks, these participants will be assigned an hour of homework that will be regularly checked.
"The program is the perfect combination of our strengths," said wife, Stephanie. "Darcy teaches relationship skills to individuals, and I teach them to couples. This was an opportunity to work together while bringing our experience to the masses in an organic way."
Relationship Skills Boot Camp
will be available soon.