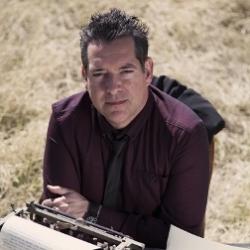 Tucson, AZ, August 10, 2016 --(
PR.com
)-- Geoff Notkin, recognized around the world as the star of TV's "Meteorite Men," begins an exclusive three-day engagement at the Edinburgh Fringe Festival on Friday, 12 August, when he hosts the European Premiere of the official documentary about his lifelong friend, celebrated author Neil Gaiman. Edinburgh Fringe is the largest arts festival in the world, an inspiring celebration of the best performance and entertainment coming out of every continent of our planet.
The film, entitled "Neil Gaiman: Dream Dangerously," includes revealing interviews with some of Gaiman's closest friends, including his wife Amanda Palmer, George R.R. Martin, Grant Morrison, Terry Pratchett, Will Wheaton and, of course, Geoff Notkin. Gaiman and Notkin became best friends at the age of 10 when they met and bonded at the strict British school they both attended. Notkin is an Executive Producer on the film.
On Friday, 12 August, and Saturday, 13 August, "Neil Gaiman: Dream Dangerously" begins at 8 p.m., followed by a live audience Q&A with Notkin as he shares recollections of his enduring friendship with Gaiman, including their years as teenage punk rockers in London. The film premiere takes place at the historic New Town Theatre (Venue 7), a beautifully and lavishly decorated Freemasons Hall built in 1913, at 96 George Street in Edinburgh. The theatre was named Best Fringe Venue by the Edinburgh Spotlight and is the winner of the coveted Herald Angel Fringe Award. Tickets for both "Dream Dangerously" showings are on sale now at tickets.edfringe.com and will be available at the door. Tickets may also be purchased on the Ed Fringe app or by phone at 0131 226 0000.
On Sunday, 14 August, Notkin returns to the New Town Theatre to debut his own lively one-man show, "I Was a Celestial Rubbish Collector – The Astonishing True Adventures of a Meteorite Man." This high-energy multimedia presentation is a first come-first served free event and covers Notkin's sometimes comical, sometimes harrowing experiences around the world making adventure TV for Discovery and other networks.
Geoff Notkin is an accomplished author, musician and explorer, and a two-time Emmy winner for his science television series, "STEM Journals." He has traveled to 45 countries and some of our planet's most remote areas in search of meteorites, including northern Siberia, Chile's Atacama Desert, the Australian Outback, and has three times crossed the Arctic Circle. Born in Manhattan and raised in London, Notkin now calls Tucson, Arizona home.
Notkin's appearance at Edinburgh Fringe was arranged by New Town Theatre's producer and creative director, Lach, an accomplished musician and entertainer in his own right, and star of the BBC Radio 4 show, "The Lach Chronicles." Notkin and Lach share a long professional relationship, including Notkin playing bass guitar on Lach's 1997 record Blang!, which features the song "Dreamboat," inspired by Neil Gaiman's beloved comic "The Sandman." After working together musically for over 30 years, this is the first professional event that Notkin and Lach have collaborated on in Europe.
"We are thrilled to secure the European premiere of 'Dream Dangerously'," said Lach. "This is an exclusive engagement with no other venues in the UK at this time. The film delves deeply into Neil's writing process, exploring the childhood origins of his love of mythology, up to his struggles to keep his writing fresh after 25 years of successful storytelling."
Prior to pursuing his love of science, writing and public speaking, Geoff Notkin had a successful career as a cartoonist, after graduating from New York City's famed School of Visual Arts. His third book, "My Incredibly Strange and Amazing Real-Life Adventures in the World of Comic Books," chronicles his close encounters with titans of the comic industry, including Eisner, Caniff, Kurtzman, Gilliam, Spiegelman, and, of course, Neil Gaiman. The book is available on Amazon or at http://geoffnotkin.com/books.
Media wishing to interview Geoff Notkin are asked to contact Becca Gladden, Director of Public Relations, at pr@aerolite.org or (623) 210-6554.
More About Geoffrey Notkin: A television host, professional meteorite hunter, science writer, and photographer, Notkin is president of Aerolite Meteorites, Inc., the world's largest commercial meteorite company. He starred for three seasons on Science Channel's award-winning TV show "Meteorite Men," and hosted the Emmy-winning educational TV series "STEM Journals" for Cox Media. He has also made documentaries for National Geographic, Discovery, PBS, BBC, History Channel, A&E, and Travel Channel. Notkin has written more than 150 published articles on meteoritics, paleontology, adventure travel, history, and the arts, and is the author of three books. The minor planet 132904, discovered at Mount Palomar, was named "Notkin" and approved by the Minor Planet Center in recognition of Geoff's contributions to science and education.
Website: www.geoffnotkin.com
Source: Aerolite Meteorite Public Relations