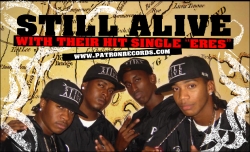 Phoenix, AZ, January 18, 2008 --(
PR.com
)-- Websites
http://www.patronrecords.com
http://www.myspace.com/patronrecordsinc
http://airplaydirect.com/stillalive
About Still Alive:
Still Alive (A un Viven) - A group with a Nuevo Estilo.
With a style of their own and a rumba form of tropical dance and Hip-Hop, this group is currently being played across Latin America and currently about to hit big in the United States. This talented Columbian group is made up of four male members- Sunday, Bigday, RJ and the youngest Makliky.
The group's debut single and video: "Lady" was aired on 1/12/08 on Mun2 with a huge success. TV promotions for all national and international Latin TV will go underway within weeks.
On December 25th -Jan 1st the group took stage in their homeland of Colombia in the world acclaimed De Feria, one of Latin America's biggest festivals with huge reviews drawing more promoters and industry contacts to the group.
The group will enter the USA in mid march with its USA tour with CEO of Wu Tang Latinos the two will push the group's single and videos into national radio and Latin T.V. Currently track Eres is charting national Latin record pools top 15 and gaining spins on Latin radio here in the USA - a tremendous response from international radio with charting. Track -"Lady" has been picked by national Latin record pools as a "pick hit."
For business opportunities: Attention major record labels, Patron Records is looking to merge. They are seeking record contracts for their artists.
Catch the video "Lady":
http://www.blastro.com/player/stillalivelady.html
For bookings: www.rdsmarketing.com/StillAlive.html
www.locoloboevents.com/display_bio.php?id=8945
Preview the CD: www.cdbaby.com/STILLALIVE
Contact: Abel Romero
abel@patronrecords.com
direct: 602-471-0999
toll free : 1877-7PATRON ext #1
P.O. Box 8803, Phoenix, Arizona 85066
###