Bobby + April Concierge Real Estate Highlights Renew Renovations Newest Projects; A Starry Night Infused with Local Fare and Music Dazzles All
Bobby+April offer new marketing strategy for listings for Renew Properties.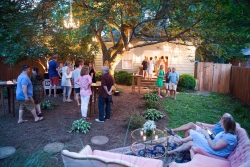 Richmond, VA, August 11, 2016 --(
PR.com
)-- Bobby + April Concierge Real Estate invited past and potential clients to make themselves at home in a progressive evening showcasing two new projects by Renew Renovations, 1603 Grove Ave. and 4201 Stuart Ave.
The evening started at 1603 Grove in Richmond's historic Fan's District, a multi-unit townhouse returned to a stunning single-family. Surprising guests upstairs were the local duet, Colin and Caroline, performing in the master suite while guests enjoyed charcuterie on the eight-foot island that is installed in the well-appointed walk-in closet. As the music flowed down the stairs, guests enjoyed an array of local favorites such as gourmet devil eggs and filet of beef sandwiches. The gourmet kitchen is completely outfitted with Viking appliances and custom cabinets and marble. Outside, the carriage house flexed its muscle with a Porsche 911 provided by Porsche of Richmond and guests were invited to explore the the space above that would be perfect as an office or art studio.
Later, everyone migrated to 4201 Stuart Ave. where the spacious rooms and an addition that created a chef's kitchen enthralled guests. The catering staff provided adult milkshakes and a crepe bar to help complete the progressive dinner. In the backyard, Steve Bassett entertained while glittering chandeliers hanging in the trees twinkled in the night sky. Guests enjoyed a tasting by local favorite Reservoir Bourbon Distillery in the large garage. As the evening drew to a close, guests left feeling inspired and excited about how Renew Renovations and Bobby + April Concierge Real Estate can move them in to their dream home.
Bobby + April is the exclusive agency representative for Renew Properties and Renew Renovations, a Class "A" contracting firm. Follow our updates, before and after pictures and other information on our Facebook page Bobby+April or our website
bobbyandapril.com
. For more information about upcoming projects call 804.307.4280.
Contact
Bobby+April
April Straus
804-307-4280
bobbyandapril.com

Contact