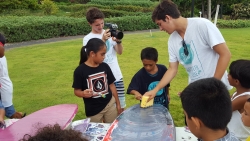 San Diego, CA, August 15, 2016 --(
PR.com
)-- Among the 15 international volunteers, from New York to Colombia, leading this delegation,
Nate Goodman
puts the organization over the edge by documenting the process of collecting the boards to painting them and teaching the underprivileged youth how to surf. Goodman comments that "It is such an amazing feeling seeing all of our hard work from so many driven founders, volunteers, and mentors come together to reach our ultimate goal--giving these kids a chance to surf...I have always searched for ways to integrate my passion for filmmaking into my philanthropic endeavors, and being a part of
ReSurf
has definitely helped me fulfill that in my life." Nate has been an avid surfer since he moved to San Diego in 2009 and ReSurf has been an extension of his deep interest in the sport.
As the summer kicks off and vacation is rampant, ReSurf inspires teens to do more meaningful service through ocean education, infrastructure, painting, and surf lessons around the world. This undertaking encompasses just that. During their time in Oahu, Nate Goodman and the ReSurf team partnered with local organizations such as West Oahu SUP (Stand Up Paddle Boarding), Nā Kama Kai, and The Boys and Girls Club in addition to connecting with the local youth and bringing surfing into their lives. As Nate Goodman undertakes the filmmaking process and the responsibility for helping to lead the program, he notes that "I would not be able to do this without the immense support from the adult founders and stakeholders like Rabbi Zevi New and Oran Bendelstein." Nate Goodman has been producing films for ReSurf San Diego for almost three years and jumpstarted a ReSurf club at his high school,
Canyon Crest Academy
(CCA). He noted that "this first started off as a business gig, but then it turned into something I just volunteered to do because I love surfing, leadership, making movies, and just helping out." As Nate undertakes the college application process as a senior at CCA, he will continue to bring value and excitement to ReSurf.