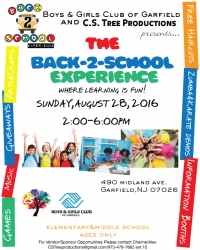 Garfield, NJ, August 19, 2016 --(
PR.com
)-- Increased prices and low income makes it challenging for parents to send the kids back to school in style according to the operator of "Back-2-School" CS Tree Productions.
With the first day of school approaching, parents across the state are shopping and making arrangements for their children's big day! For some who are struggling to make ends meet, the "Back-to-School" experience can be rough financially. To assist, local Garfield resident Charine Campbell-Sills has organized "The Back-2-School Experience."
"I know it's difficult for some parents to provide extras for their children, especially in single parent households where there are multiple children. I know growing up it was exciting to get new things to go back to school. I want all children to have that same experience which is why I decided to give back," states Charine Campbell-Sills, a 30 year old mother of two.
From back packs, uniforms, accessories, books and other school supplies to haircuts and nail care, children will be provided free gifts and services at "The Back-2-School Experience" held at the Boy & Girls Club of Garfield on Sunday, August 28, 2016. In addition, refreshments and live entertainment will be provided for children including, games, face painting, balloon art, characters, and activity demos (Karate, Zumba & Hip Hop Dance) along with arts and crafts. "I wanted to arrange an event where the kids could come out and have a good time. I think it's important that school is celebrated. I put the idea out there and several Garfield residence and businesses decided to assist. We have tons of nice things to give our children. We are truly looking forward to having a good turn around and a great event," states Campbell-Sills.
All are welcome to participate in "The Back-2-School Experience." If you would like to donate refreshments or gifts for the students please email cstreeproductions@gmail.com.
Contact:
Charine Campbell - Sills
cstreeproductions@gmail.com
305 Midland Ave
Garfield, NJ, 07026
United States
Phone: (201) 640-9156