Christian Music Trendsetter Carman Returns to the Stage Triumphant After Life-Threatening Cancer Battle
Bringing life and hope to families across the country in the high energy 2016 "CinemaSonic Experience" Tour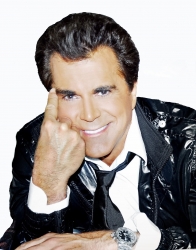 Nashville, TN, August 25, 2016 --(
PR.com
)-- Pioneering Contemporary Christian Recording Artist, Carman returns to the stage once again after a life threatening battle with cancer. He presents a brand new concept, appropriately named "CinemaSonic Experience," a concert, a movie, a play and a crusade all in one - a must see event. The new high-energy show, presented in classic Carman style, does not disappoint. Surrounded by 6 giant LED big screens, Carman once again brings people out of their seat and rolls back the clock. It's an evening of miracles; the first in seeing a man who's led over a million people to Christ shake off a certain death sentence to once again dazzle the crowds.
This new 2016 "CinemaSonic Experience" Tour highlights new music from his 40 year catalogue of classic music. Songs like "The Champion," "Witches Invitation" and "Who's in the House" are presented in an entirely new and creative way. For information on tour itinerary and how to obtain seating, visit
www.itickets.com
.
Carman was diagnosed in February of 2013 with Multiple Myeloma, an incurable cancer of the blood that deteriorates the body's bones, literally eating them away piece by piece. Given less than 18 months of productive life to live was a shocking annual health check up report.
This tour, Carman wants to do something special for children in pediatric cancer units. He created a "Prayer Bear"--an adorable little stuffed bear wearing a cute blue T-shirt that says "SOMEBODY'S PRAYING FOR ME." These bears are made available at his concerts so anyone who gets one can put their name, info and a personal message on that bear. Each child will know who sent the bear and have the opportunity to communicate or say thank you to the very person who got it for them.
Carman is also teaming with ChildFund International, an organization dedicated to supporting deprived and vulnerable children around the world to reach their full potential. During the tour concert-goers have sponsored over 5,000 children into new lives all over the world, giving them food, an education and medical treatment.
The 2016 "Cinema Sonic Experience" Tour will wrap up in Little Rock, Arkansas in a "Night of Victory" on Thanksgiving weekend. A full production concert for all of the cancer patients, their families, the nurses and doctors will be held just blocks from the hospital facility where Carman received his 9 month treatment for cancer. Admission is free to the people of Little Rock.
Contact
Catherine Highfill Group
Catherine Highfill
615-479-3144
www.itickets.com

Contact