Full Metal Dojo: The Beginning
An opportunity to introduce Thailand's number 1 MMA organization to a North American audience. Owned and operated by Boston native Jon Nutt, Full Metal Dojo has had 12 events since it's inception in 2014. Nutt, an ex-pat since 2005, speaks and sings fluent Thai and is expanding the Dojo into Asia. Consequently, he is 2-1 as a fighter and promoter.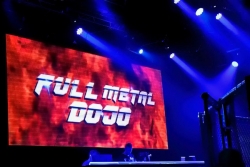 Los Angeles, CA, September 17, 2016 --(
PR.com
)-- Full Metal Dojo is an MMA organization based in Thailand that just completed their 12th event in Bangkok, Thailand. A grassroots, MMA development league that offers an international audience action packed Fight Sport Entertainment topped up with character based drama, inspired by pop culture.
Chinese television and North American television contracts are in the works, but the press should learn about this burgeoning organization that's not competing with the UFC, but creating a different outlet for viewers from all ages, nationalities and walks of life who are fans of the sport of fighting.
Run by Jon Nutt, the owner, promoter and occasional combatant, the Dojo is about Masculinity, Hope and Responsibility. Jon Nutt personifies it. A bit controversial, always entertaining, Full Metal Dojo is bringing a new face and vibe to mixed martial arts.
fullmetaldojo.com
facebook.com/fullmetaldojo/
Contact
Full Metal Dojo
Bobby Kesselman
310-850-7337
fullmetaldojo.com

Contact