DuraLife™ Unveils Rockport™ Extruded PVC Railing System
New System Meets Residential & Commercial Performance Requirements with Clean, Elegant Appearance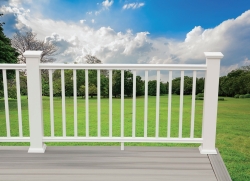 Biddeford, ME, September 28, 2016 --(
PR.com
)-- DuraLife™, a leading manufacturer of durable decking & railings, has unveiled its new Rockport™ extruded PVC railing system designed to deliver clean, elegant appearances that meet the structural building code requirements for both residential and commercial applications. The system was especially-developed for level rail spans up to 10 feet and up to eight feet of stairs.
"We've combined proven PVC formulations with an aluminum reinforced core to ensure the long-lasting durability of every Rockport rail installation," says Jim Poulin, the national sales manager for DuraLife Decking and Railing. "In addition, the entire system is installed with internal, hidden fasteners that further the structural integrity of each application, while delivering a seamless and beautiful finished touch to nearly any form of decking."
The new Rockport extruded PVC railing system features hidden stainless steel mounting hardware, flat top rails with chamfered edges, and a matte white finish that can easily be painted custom colors. It also comes with matching pyramid style post caps and collars; 6', 8' and 10' rail kits; 6' and 8' stair rail kits; and rails that are either 36" and 42" in height.
Earlier this year, DuraLife also introduced the new Your Choice Program™ to help homeowners design ideal outdoor living spaces by selecting the color they want at the performance & price points of their choice. This includes the selection of deck boards ranging from wood tones offered in variegated, non-repeating wood grain patterns to contemporary earth tones available in all three of the company's Siesta™, MVP™ or Starter™ composite decking profiles.
For more information on DuraLife's new Rockport extruded PVC railing system or new Your Choice Program™ please visit www.duralifedecking.com. Free product samples highlighting the company's line of Hardwoods™ and Landscapes™ Collection eco-friendly decking are also available upon request.
About DuraLife™ Decking and Railing
DuraLife™ brand products are manufactured by Integrity Composites, LLC a leading supplier of composite decking, railing, and dock planks. The company operates a 100,000 square foot manufacturing and warehouse facility in Biddeford, Maine and its products are sold throughout the U.S. and internationally.
Contact
DuraLife Decking & Railing
Mike Descoteaux
207-571-0775

Contact