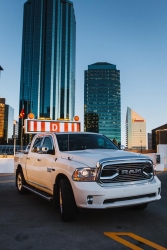 Edmonton, Canada, October 11, 2016 --(
PR.com
)-- Verbalized Signs, an Edmonton based technology firm, has integrated a brand new wireless interactive digital pilot truck sign. Users can easily update and control the sign functionalities like strobes, actuators and bus lights all from the unique Verbalized app. The preset messages to display the graphics that represent the respective regulatory signs in each province / state. Verbalized digital pilot truck signs are built to high standards by skilled craftsmen and are installed by technicians here in Edmonton, Alberta.
This user-friendly, wireless LED pilot truck sign offers clear advantages for the industry, providing a more efficient way to safely control traffic. The Verbalized digital pilot truck sign is visible from 175m compared to the current pilot truck signs of which are no longer legible after 45m. In addition, the signs can be brightened or dimmed using the app or ambient light sensor. With the full color or amber options and cost-efficient technology, Verbalized LED Digital Pilot Truck signs is a unique product that has impact and is in demand all over Canada and the US.
youtu.be/K8nujKdijxs
In the current scenario, these signs have to be manually changed by sliding out the previous acrylic or lexan sign and sliding image. The pilot truck driver has to get out of the truck every time he has to change the sign, even in the cold winter. Verbalized identified this problem which prompted President Peter McGie to create a new dimension of performance with the pilot truck sign.
About Verbalized: Verbalized Signs is a technology company based in Edmonton, Alberta, that specialized in wireless digital sign production, mounting solutions and synchronized sign software. Inspired by the simple notion that digital signage should be able to be instantaneously updated for seamless virtual communication on any surface, Verbalized is committed to helping users get their messages across with ease and impact.