Badger Truck Equipment Moves Forward
Badger Truck Equipment Expands in a New Direction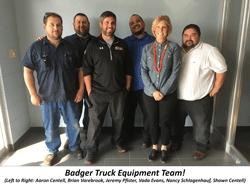 West Allis, WI, October 06, 2016 --(
PR.com
)-- Badger Truck Equipment (BTE) has announced that it will be moving forward as a separate entity from Casper's Truck Equipment Milwaukee, providing sales, installation, service and parts to truck equipment customers.
Previously, Badger Truck Equipment had announced a strategic partnership with Casper's Truck Equipment. The goal was to work together to strategically provide truck equipment sales, service and installation for the Milwaukee Metro, Southern Wisconsin and Northern Illinois market area.
After working together for more than a year, both companies have mutually agreed to part ways and continue to expand the individual companies on their own. "It was a great learning experience," Jeremy Pfister, Production Supervisor of Badger Truck Equipment stated. "We worked together for more than a year sharing best practices and industry standards. Now, both companies feel it's in our customers' best interest to continue on separate paths. We are looking forward to continuing to build the business, expanding our services and offerings to the truck market." Shawn Centell, Sales Representative, added, "We plan to continue our focus on understanding our customers' needs and their sense of urgency, providing them with the solutions they need."
Badger Truck Equipment distributes, installs, and services truck equipment ranging from accessories for pickups to upfitting quad-axle dumps. The BTE paint department can provide customers with quality body repair and refurbishing. Networking and partnering with strong and varied suppliers and manufacturers makes Badger Truck Equipment an integral part in finding the right solution for our customers.
About Badger Truck Equipment
Badger Truck Equipment (BTE), established in 2005, is a family-owned commercial truck equipment provider located in West Allis, Wisconsin. Badger Truck Equipment provides new and used sales, installation, service, parts and paint options for light, medium, and heavy-duty commercial truck and retail customers. With the highest integrity, the BTE team has developed the knowledge to understand the complexities of truck equipment and the importance of building the right solution for its customer's specific application. To learn more, visit badgertruckequipment.com, or call 414-316-2791.
Contact
Badger Truck Equipment
Christine Duncan
414-316-5809
www.badgertruckequipment.com

Contact