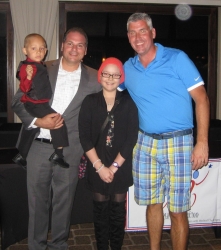 Parsippany, NJ, October 14, 2016 --(
PR.com
)-- America's top mortgage company* Residential Home Funding Corp. (RHFC) held its 8th annual charitable golf outing and dinner last Wednesday, October 5th at Ballyowen Golf Club in Hamburg, NJ. The fundraiser was hosted by the company's RHF Foundation, with 100% of the proceeds from the outing going to three families with children who suffered from cancer. A large donation was also given to the St. Joseph's Hospital Pediatric Department, the Dean Michael Clarizio Cancer Foundation (DMCCF), and the L.E.A.D. Program (Law Enforcement Against Drugs).
The Mission of the RHF Foundation is to "Provide Funding to Help Children with Acute Medical Conditions." The RHF Foundation is committed to enhancing the healing environment for children with acute medical issues. Their goal is to fund programs that make hospital stays less frightening and more enriching for a child.
The event was completely sold out, and RHFC was overwhelmed by the support. There was more money raised than ever before with endless donations from sponsors, attendees, and volunteers. There were 144 golfers and 180 guests at the dinner where checks were personally handed to the families that were affected by the terrible disease. It was a night filled with emotion, and RHFC was incredibly honored to have had the opportunity to make a difference in the lives of these families.
About Residential Home Funding
*In March of 2016, Residential Home Funding Corp. was named on the list of the Top 100 Mortgage Bankers in America for the fifth time. This list is compiled by Mortgage Executive Magazine annually, ranking companies not only by their total volume, but also crediting them as "high performing" in periods of uncertainty. Founded in 2000, RHFC is a big mortgage lender that doesn't act like one. As the 66th largest mortgage banker in America, they are licensed direct lenders in 12 states including CT, DC, DE, FL, GA, MD, NC, NJ, NY, PA, SC, and VA, while still treating each and every customer like family. RHFC funds all types of transactions such as basic residential purchases, refinances, investment properties, construction loans, mixed use, and more. Residential Home Funding Corp. is a direct FNMA lender and also originates FHA and VA loans to NJ and beyond. They are a direct FNMA lender and have LAPP approval. Their program is excellent for first time buyers allowing low down payments, gift money, and flexible underwriting standards on credit and debt to income ratios. At Residential Home Funding, there is a mortgage loan custom suited for almost every borrower, having built their reputation on service and efficiency. We Do Business in Accordance with the Federal Fair Housing Law. Visit Residential Home Funding Corp. at www.RHFunding.com.