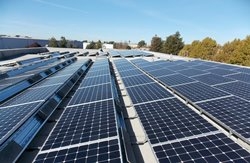 Novato, CA, November 03, 2016 --(
PR.com
)-- Designed and installed by SolarCraft, the solar photovoltaic system is roof mounted on the main facility and consists of 203 SunPower high efficiency 327-watt solar panels, providing 102,480 kWh of sustainable solar power every year.
"Being an environmental firm we recognize the importance of clean air and water, now and for generations to come," stated John Tate, Owner of EnviroCare. "With this in mind, we felt strongly that investing in solar is the right thing to do not only for the company's future but also the planet's. We are very satisfied with the installation and friendly cooperation SolarCraft provided to help meet our needs."
Over the life of the system 4 million tons of carbon dioxide will be eliminated from EnviroCare's carbon footprint, which is the equivalent of removing 6.5 million miles of driving over the next 25 years. That's also comparable to the air pollution removed by more than 34 acres of trees.
SolarCraft's turnkey solar energy solution also included performance monitoring. This offers real-time visibility into the number of kilowatt hours of electricity the solar panels are producing at any given moment to ensure all panels are preforming at peak efficiency.
EnviroCare's solar power system will quickly pay for itself and will provide consistent renewable energy for over 30 years.
About EnviroCare International
EnviroCare was founded in 1980 as a broad-based supplier of engineered systems, engineering services, and aftermarket service for air and water pollution control, gas conditioning and gas cooling applications. EnviroCare has developed effective and unique solutions for industrial gas conditioning applications and air pollution control equipment optimization. EnviroCare also supplies custom wastewater separation and concentration equipment. EnviroCare has over 20 employees in three countries strategically positioned to provide worldwide coverage.
SolarCraft, a 100% Employee Owned Company, is one of the most trusted and experienced solar energy contractors in California. Since 1984, this certified Green Business has been providing high quality solar electrical, solar pool heating and solar water heating services to homeowners and businesses, employing licensed and certified solar installers. With more than 6,000 satisfied customers and over 3 million square feet of solar collectors installed, SolarCraft is committed to Quality Design, Quality Materials and Customer Service.
www.solarcraft.com