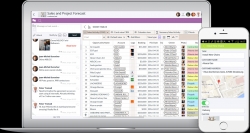 Paris, France, November 15, 2016 --(
PR.com
)-- TimeTonic received the award for Technological Innovation in 2016 at Mobility Awards 2016.
The 15-person jury from prestigious economic and IT press and industry professionals selected TimeTonic for its innovative Visual, Cloud & Mobile new Smart Database that allows professionals to free themselves from complex corporate business tools and create or customize collaborative web and mobile sales, projects or field operation management solutions in minutes.
TimeTonic has already been adopted by professionals in small and big companies in the US, the UK, Canada, Brazil, Hong Kong, Sweden, Belgium, Germany and France (Insurance brokers, Telecom Solution Providers, Energy Groups, Consulting firms, Event and Communication agencies, Movie Producers, Startups) to replace traditional CRMs, spreadsheets and project management tools, to manage events, contracts, documents or teams, and to instantly build vertical mobile applications for field operations.
The data is the application
TimeTonic's originality comes from its disruptive focus on the data rather than on the application. By building a new kind of smart, visual, easy to use database, not for the developers but for the business professionals themselves, TimeTonic makes it possible to create or customize any kind of web or mobile applications in minutes.
The data is the application.
TimeTonic is as easy to use as post-it cards you move around on the screen, yet as powerful as a relational database and as flexible as spreadsheets.
Everyone is in sync
TimeTonic also comes with built-in team communication to improve internal and external collaboration. And because they all share a common database, projects, sales, teams, planning, deliveries, inspections, events, documents, invoices or emails are all linked to each other.
Instant vertical native mobile applications
Dedicated vertical mobile field applications that used to cost a fortune to develop, were rigid, isolated, complex and almost instantly obsolete on launch date are now a thing of the past. Just insert a column in the spreadsheet view of your smart database to automatically create a new field in the form of your native mobile application: checkboxes, dates, texts, colour codes, links to other data, comments, etc.
And because the back-end for the office managers is the same as the front-end for the field teams, with beautiful native page, calendar or form views adapted to everyone's needs, huge time savings are made allowing professionals to stay on top of everything and companies to become more agile, more reactive and more innovative.
Complete cloud and mobile management applications
TimeTonic comes with pre-built applications that can be fully customized, including:
• TimeTonic CRM to manage sales pipes and forecasts,
• TimeTonic Projets for project management
• TimeTonic Courtage for insurance brokers
• TimeTonic Cinéma to manage TV and Film productions
• TimeTonic Interventions to manage field operations