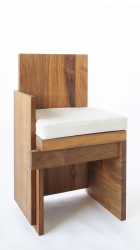 Venice, CA, November 17, 2016 --(
PR.com
)-- Kristin Grant of Dust to Dust and Sarah Jones of High Density present their furniture collaboration, The Chase. Combining their practices in woodworking and hand weaving, The Chase is comprised of seven pieces that emphasize simplicity and elegant material pairing. They will be debuting their collection in the unique setting of the Spiller House in Venice Beach, a 1978 Frank Gehry beach house.
The title of their collection, The Chase, is derived from their shared design pursuit; the chase to create with salvaged and sustainable materials. Kristin, a woodworker, chose off-cuts of ash, teak, walnut and white oak from her studio to construct the bold wood forms. Sarah, a fiber artist and sculptor, utilized leather remnants, basalt fiber and US milled cotton to weave the patterned textiles.
This is the first iteration of their shared vision and they invite the viewer to consider each piece as a swatch for potential weaving patterns and wood finishes that could be customized.
Dust To Dust was founded in 2010 by Kristin Grant. Each piece is an investigation into the materiality of wood. She combines a background in traditional interior design, learnt as an apprentice to her grandfather, Hector Grant, with an emphasis on precision derived from boat building. Her undergraduate degree in Art History at St. Andrew's led her to a post-grad course in architecture. From there she undertook her formal training in woodworking at the Northwest School of Wooden Boat Building in Washington. Her approach focuses on searching for the simplest material outcome for a particular design problem. www.dusttodustfurniture.com
High Density was founded in 2015 by Sarah Jones. Anchored in a sensualist philosophy, she creates tactile designs from innovative materials with distinct histories. She draws inspiration from traditional craft processes, the exquisite chaos of the cityscape and the formal language of sculpture. Sarah holds a BFA in sculpture from the University of Houston and a MFA in Fiber and Materials Studies from the School of the Art Institute Chicago. www.highdensitystudio.com