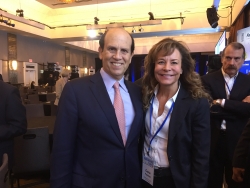 New York, NY, November 23, 2016 --(
PR.com
)-- The Chauncey F. Lufkin III Foundation was proud to participate in the Milken Institute's annual Partnering for Cures Conference at The Grand Hyatt New York, held November 3-18, 2016.
Partnering for Cures connects hundreds of decision-makers from across the medical research system who are motivated by the same mission: to reduce the time and cost of getting new therapies from discovery to patients.
The annual conference encourages and motivates its participants to forge actual partnerships with one another to further their commitments in the field. This year, Cara Familet, Foundation Director, represented The Chauncey F. Lufkin III Foundation at the Conference. Ms. Familet expressed the Foundation's intention to dedicate a bulk of the Foundation's 2016 commitment to The Milken Institute specifically to FasterCures, conveying that message to both Michael Milken, Chairman, Milken Institute and Founder, FasterCures and to Margaret Andersons, FasterCures, Executive Director.
Pictured: Michael Milken, Chairman, Milken Institute and Founder, FasterCures and Cara Familet, Foundation Director of The Chauncey F. Lufkin III Foundation
Several panels were particularly noteworthy including Monday morning's panel – "Backing the Next Breakthrough: New Models for Investing in Biomedicine."
In addition, Foundation Director, Cara Familet initiated The Chauncey F. Lufkin III Foundation's discussions with Cure Alzheimer's Fund, a non-profit organization dedicated to funding research with the highest probability of preventing, slowing or reversing Alzheimer's disease. At the conference, Ms. Familet met with its representatives Sally Rosenfield, Senior Vice President and John Slattery, Senior Vice President, Development. In post-conference follow-up, the two organizations will explore partnering together in the spirit of the conference.
"It is our primary goal in attending these events to be a player in the progress to facilitate FasterCures in any way that we can. The experience of participating in Partnering for Cures is uplifting because one realizes that each person can play a small role in the making of scientific history. The sum is greater for the parts," said Chauncey Lufkin, Founder of the Chauncey F. Lufkin III Foundation.
About the Milken Institute
The Milken Institute is a nonprofit, nonpartisan think tank determined to increase global prosperity by advancing collaborative solutions that widen access to capital, create jobs and improve health. We do this through independent, data-driven research, action-oriented meetings and meaningful policy initiatives.
About FasterCures
FasterCures, a center of the Milken Institute, is an action tank, determined to remove barriers to medical progress. We have only one goal: to save lives by speeding up and improving the medical research system.
About the Chauncey F. Lufkin III Foundation:
The Chauncey F. Lufkin III Foundation is a charitable organization founded in 2006 dedicated to improving the quality of life for individuals around the world. Our foundation's focus is on fighting poverty through better education and by finding faster cures for the diseases that affect loved ones. Our strategy is to comb the globe for private independent foundations effectively working on these issues, supporting them with financial injections that make a difference. To date the Foundation has lent their support to numerous organizations including The Robin Hood Foundation, The Milken Institute, The Aspen Institute, The Boys and Girls Club of Palm Beach County, Quantum House of Palm Beach County, Apex for Youth, St. Jude Children's Research Hospital, and BizWorld. Mr. Lufkin has also established The Chauncey Lufkin Endowment for Academic Excellence at Southern Methodist University and is a major contributor to St. Lawrence University. www.cfl3.org