Roswell Mardi Gras Ball to Boost Local Causes and Holiday Gift-Giving
The Second Annual Roswell Mardi Gras Ball fundraiser is coming up February 25, 2017, to benefit both Skyland Trail and Roswell Woman's Club. And, come tax-time, it could bring a welcome deduction - because all ticket purchases are fully tax deductible!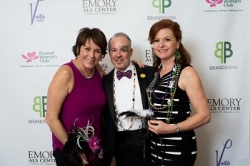 Atlanta, GA, December 01, 2016 --(
PR.com
)-- The Voilà Foundation Roswell Mardi Gras Ball promises to give back twice.
Participation in the charitable nonprofit's primary annual fundraiser means hearty fun and entertainment to those who attend the event. Taking part also ensures heartfelt donation recognition to those who purchase the Roswell Mardi Gras Ball tickets.
Click here for tickets.
But the two charities benefiting from this upcoming event will gain most of all.
Skyland Trail offers a different kind of mental health solution, combining psychiatric care with a holistic path to wellness.
The Roswell Woman's Club supports our community in the areas of educational scholarships and grants.
Says Guy Scull, President of The Voilà Foundation:
"Whether they're for you or family and friends, tickets to this event will be a great holiday gift! The folks at the core of our Foundation, (pictured here from R to L) Manuela Davis, Scott Law and Margie Powell, have developed the current Mardi Gras Ball event from two decades of selfless, charitable fund-raising with a small enthusiastic team they've put together over the years.
"The Ball is a grand event - a real achievement. And as was proven with its success last year, they've really got this annual ball down to a fine art! I'm proud to be part of this regional-level, significant nonprofit event."
Funds raised at the inaugural Roswell Mardi Gras Ball in 2016 totaled over $100,000 and net proceeds benefited the Emory ALS Center and the various educational causes of the Roswell Woman's Club.
The 2017 Ball, themed "Bourbon and Boas" will be held on "Samedi Gras," the Saturday before Fat Tuesday, in the ballroom of the Olde Towne Athletic Club. Entertainment will feature live New Orleans-style dance music by The Ruby Red's Band, live event painting by portrait artist Ann M. Bailey, and both silent and live auctions of one-of-a-kind works of art, jewelry and travel packages. Guests will enjoy a Mardi Gras inspired dinner buffet and libations. Of course a King and Queen will be presented and prizes will be awarded for the Best Masks!
Ticket sales are limited, and easily available online at https://roswellmardigrasball.ticketleap.com
Says Scull, "Remember to get your tickets in 2016 to benefit from a tax donation credit come April." (888) 950-0059
Contact
Quality Content Plus
Ann Bailey
678-488-6516
qualitycontentplus.com
info@thevoilafoundation.org
(888) 950 - 0059

Contact