Local Chicago Technology App Founder Shares New Survey on Hidden Fees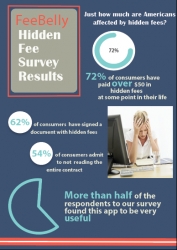 Chicago, IL, July 12, 2017 --(
PR.com
)-- FeeBelly, a mobile app designed to instantly catch hidden fees, excess fees and costly details buried deep in fine print of financial agreements and contracts without professional legal assistance, has released a new study reflecting how much Americans are affected by hidden fees. The survey revealed that more than half of respondents found the app useful and admitted to not reading contracts thoroughly before signing. Some other interesting findings include:
· 72% of respondents have paid more than $50 in hidden fees in the last year
· 62% have signed an agreement in the past year that included hidden fees
· Half of the respondents were hit with hidden fees when traveling or with gym/tanning memberships
FeeBelly is a fine print detective app for consumers and businesses, using cloud-based hidden fees keyword optimization specific to document-type and flag anything that needs attention. FeeBelly makes it easy for users to take photos and import their documents to the app. It shows users hidden fees, hidden terms and costly details hidden in terms & conditions statements, terms of use statements, financial agreements or contracts. The app will analyze the fine print for consumers and will alert them of hidden costly details before signing on the dotted-line of financial agreements or contracts.
"Honesty and transparency in the shopping experience of consumers is breached which leads to distrust between consumers and sellers. And ultimately makes consumers suspicious in spending more to boost the economy. FeeBelly gives consumers an advance knowledge of consent so they can ask for hidden fee waiver from seller, renegotiate hidden terms or costly details with seller or check out what the competition has on these costly details before you buy," said Michael Asare, founder and CEO of FineprintF Technologies, Inc.
Asare was inspired with the idea after being approved for a loan and missing important fine print details causing him to deal with an additional bill. Asare wanted to provide a simple tool for himself and others to save money and time when it comes to financial agreements and contracts.
FeeBelly is available to download for free in the Apple App Store. Premium memberships are also available for $8.99/month or $99/year. Please visit
http://feebelly.com/
for more information.
About FineprintF Technologies, Inc.
FineprintF Technologies was founded by Michael Asare in 2016. After hard work and dedication and working closely with other software developers, the mobile app FeeBelly launched for iOS systems in January 2017.
For all media inquires please contact Samantha Frontera of Exclusive PR at sfrontera@exclusivepr.biz or at (847) 703-0529.
Contact
FeeBelly
Samantha Frontera
847-703-0529
www.feebelly.com

Contact