Bioscience Americas Lauds Passage of the 21st Century Cures Act
President Obama is expected to sign this landmark bi-partisan legislation soon.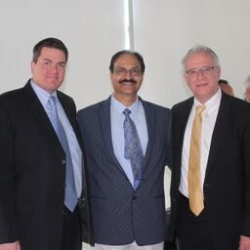 Phoenix, AZ, December 13, 2016 --(
PR.com
)-- Bioscience Americas CEO Eric Stoffers had nothing but praise for the U.S. House of Representatives' and the U.S. Senate's passage of the 21st Century Cures Act. "We've been strong advocates of this legislation which will streamline the approval process within the National Institutes of Health and the Food and Drug Administration (FDA)," Mr. Stoffers said. The Act is expected to be signed into law soon by President Obama.
Mr. Stoffers said that stem cells, because of their ability to repair the body by multiplying and differentiating into more mature cells, has inspired researchers to create hundreds of therapeutic applications. The 21st Century Cures Act will allow these applications to be brought to the marketplace for the treatment of many life-threatening, devastating diseases.
The 21st Century Cures Act incorporates many aspects of the Senate's REGROW legislation (Reliable and Effective Growth for Regenerative Health Options That Improve Wellness), introduced earlier this year by Senators Mark Kirk and Joe Manchin. That bill outlined a conditional approval system for stem cell therapies and once safety was confirmed in smaller clinical trials, researchers would get marketing approval. The REGROW legislation and the 21st Century Cures Act were actively supported by Mr. Stoffers and Bioscience Americas President Bill Deegan.
The 21st Century Cures Act language lets companies apply to the FDA for designation as "regenerative advanced therapy" that makes them automatically eligible for several types of streamlined treatment, provided that the therapy targets a serious disease and has the "potential to address unmet medical needs."
As indicated in a recent article in Science, the most enticing of these FDA designations is an accelerated approval pathway, which allows a therapy to reach the market based on intermediate or clinical trial endpoints. Compared to the standard approval process, this can mean fewer, shorter, or smaller clinical trials.
Mr. Stoffers added that the new law will make the FDA more receptive to future research submissions by explicitly stating that accelerated approval applies to stem cell therapies.
Bioscience Americas is a leading global developer of autologous stem cell treatment centers. It operates under a scientific joint venture agreement with the Global Institute of Stem Cell Therapy and Research. The Global Institute is recognized as one of the world's most eminent team of stem cell researchers. It has been the recipient of more than $400 million in research grants, endowment contributions, and legislative appropriations.
Contact
Bioscience Americas
Bill Deegan
480-454-7996
www.bioscienceamericas.com

Contact