Fierce Innovation Awards: Life Sciences Edition Announce Finalists, Innovative Biochips Recognized
Innovative Biochips LLC has been selected as a finalist in Fierce Innovation Awards 2016 for its innovative product, Automated Yeast Aging Analysis System.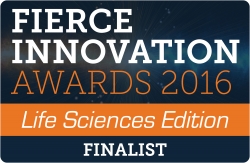 Houston, TX, December 15, 2016 --(
PR.com
)-- Innovative Biochips announced today that it has been selected as a finalist in this year's Fierce Innovation Awards: Life Sciences Edition, an awards program from the publisher of FierceBiotech and FiercePharma. Innovative Biochips was recognized as a finalist in the category of Biotech Innovation.
Innovative Biochips was selected as a finalist for its innovative product, Automated Yeast Aging Analysis System which allows high-throughput analysis of yeast cells aging with automated whole-lifespan tracking.
Finalists' applications were reviewed by an exclusive panel of executives from Medidata, PwC, PPD, Amgen and more. Full profiles of the judges can be found at https://www.fierceinnovationawards.com/life-science/2016#our_judges.
All applications were evaluated based on the following criteria: effectiveness, technical innovation, competitive advantage, financial impact and true innovation. Finalists were selected based on calculation of the judges' scores in each area.
"It is a great honor for us to be a finalist for this award. At Innovative Biochips, we continue to release innovative products and wish to provide cutting edge biotechnology services," said Dr. Lidong Qin, Founder and Scientific Advisor of Innovative Biochips.
To learn more about Innovative Biochips, visit http://ibiochips.com.
About FierceMarkets
FierceMarkets, a division of Questex, LLC, is a leader in B2B e-media, providing information and marketing services in the telecommunications, life sciences, healthcare, IT, energy, government, finance, and retail industries through its portfolio of email newsletters, websites, webinars and live events. Every business day, FierceMarkets' wide array of digital publications reaches more than 2 million executives in more than 100 countries.
Current publications include: Telecom: FierceWireless; FierceCable; FierceDeveloper; FierceOnlineVideo; FierceTelecom; FierceWirelessTech; FierceWireless:Europe /TelecomsEMEA, FierceInstaller; an Telecom Asia; Healthcare: FierceEMR; FierceHealthcare; FierceHealthFinance; FierceHealthIT; FierceHealthPayer; FierceHealthPayerAntiFraud; FierceMobileHealthcare; FiercePracticeManagement and Hospital Impact; Life Sciences: FierceBiotech; FierceBiotechIT; FierceBiotech Research; FierceCRO; FierceDiagnostics, FierceDrugDelivery; FierceMedicalDevices; FiercePharma; FiercePharmaAsia; FiercePharmaMarketing; FiercePharmaManufacturing; FierceVaccines and FierceAnimalHealth Enterprise IT: FierceBigData; FierceCIO; FierceContentManagement; FierceDevOps; FierceEnterpriseCommunications; FierceITSecurity and FierceMobileIT; Finance: FierceCFO; and FierceFinanceIT; Government: FierceGovernment; FierceGovernmentIT; FierceHomelandSecurity; FierceMobileGovernment; FierceCities and FierceGovHealthIT Marketing & Retail: FierceCMO; FierceTechExec.
About Innovative Biochips
Innovative Biochips LLC (iBiochips) is headquartered at Texas Medical Center in Houston which is the world's largest medical complex. The area has a strong biological and medical technology base and talent pool that includes 21 renowned hospitals, 10 academic institutions, and 3 medical schools. The facilities of iBiochips includes class 100 cleanroom certified GMP (Good Manufacturing Practice), microscopy room, cell/tissue culture room, and product design room. The technological innovations of iBiochips are truly based on clinical needs and revolutionize cellular and molecular diagnosis in the high-throughput and high-sensitivity. iBiochips is committed to develop advanced microfluidic technologies to achieve close combination of cell engineering and molecular diagnosis, to study phenotype-genotype correlations at the single-cell level, to deeply understand intratumor heterogeneity, to identify new immune cell subsets, and to realize aging-associated diseases prevention, diagnosis, and therapy.
Contact
Innovative Biochips
Myeong Chan Jo
832-538-1925
ibiochips.com

Contact