Dental Ambassador in Costa Rica Plans Next Dental Mission
Howard Siegler, Medical Correspondent for Noticias.CR is preparing to select the destination of his next International Dental Mission. He seeks participants, funding and media attention to further help the needy around the globe with their dental care.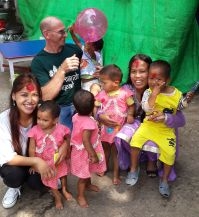 San Jose, Costa Rica, December 17, 2016 --(
PR.com
)-- Dental Ambassador Plans Next Mission
Johns Hopkins M.B.A. and recognized dental tourism expert Howard Siegler spoke of his Dental Mission to Nepal. He said: "Both the children and caregivers we visited at the orphanages in Kathmandu were surprisingly upbeat considering their dire situation. Their perseverance and good spirit in the face of such challenging adversity is unbelievable and truly inspiring."
Most people know Nepal for mountain climbing, trekking, hang gliding, and as a popular destination for spiritual enlightenment. Despite its poverty, it remains a beautiful nation in many ways. Its culture is rich, and its people are strong, but most do not have time to consider things like ipods, brand named shoes or vacations. For most, it's all about survival.
A typical family eats only two meals a day, mostly dhal (lentils) and rice; and medical and dental care are luxuries most cannot afford. Siegler, currently serving as a voluntary Medical Correspondent for Noticias.CR said: "Finding support was not easy, but one prominent Dentist in Costa Rica (who wished to remain anonymous) agreed to contribute some funds for supplies. I self-funded the rest in the hope that others would join in and contribute to future Missions."
He continued: "After having watched the images on T.V. of the devastation caused by the earthquakes last year, bringing dental kits and some treats to Nepal just seemed like the right thing to do. It turned out to be a great learning experience, and thankfully all went well. Now we have a better understanding of what is required to efficiently and effectively organize similar Missions to other countries where help is needed."
When asked what motivated him to travel to such a distant land, Siegler said: "My Johns Hopkins training and Dr. Peter Aborn prompted me to action. The former is well known for changing the world of medicine and making healthcare more accessible; and the latter is an unsung hero who travels each year to the indigenous region of Talamanca to help the neediest Costa Ricans with their dental care."
"Surprisingly, I had not considered that I would be the biggest beneficiary in the end," said Siegler. He added, "When I saw the kid's faces light up at the orphanages, I just melted. They were amazing. Despite their difficult circumstances and daily struggles, they remain just a bunch of beautiful kids, most not even fully understanding their own incredibly tough situations."
Nepal was one of the poorest nations on earth before several powerful earthquakes struck last year. Many homes and historical sites which were made of rock, brick or mortar in their better days were reduced to little more than rubble and dust. And while the population has picked themselves up to carry on, day to day survival remains unbelievably difficult.
Those who live there, at the Top of the World, in the ancient, unique and magical land are faced with the same harsh reality each day the sun arises from behind the glorious mountains that grace their homeland: Poverty. It's inescapable. Fortunately, for at least a short period of time, a few children with little hope of a bright future were able to wake up, brush their teeth, and have a little something to smile about.
Siegler concluded by saying "We are preparing to select the destination of our next Mission and will announce the chosen country soon. We invite any and all interested parties to join in our efforts to improve the lives of impoverished people wherever they may be, and to help make the world a better place one smile at a time."
Noticias.CR, a non-commercial community news site and reliable source for news of Costa Rica, thanks you in advance for your support and contributions to the orphanage listed at the link below.
www.nconepal.org.np
Contact
noticias.cr
Howard Siegler
01150622677638
noticias.cr
Medical Correspondent

Contact