Patient Appointment Scheduler Added to iTech's expEDIum Medical Billing Software
iTech, a leading SaaS based Healthcare Billing & Revenue Cycle Management Solution Provider has implemented a robust Patient Appointment Scheduling module to its Cloud based expEDIum Medical Billing & Practice Management Software.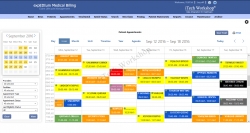 Bangalore, India, January 03, 2017 --(
PR.com
)-- iTech, a leading Healthcare IT Solutions vendor with a special focus on delivering affordable and comprehensive Web-based Medical Billing & Practice Management Solution, Medical Claims Processing Solution and Revenue Cycle Management Solutions for small to medium sized healthcare practices, implemented a robust Patient Appointment Scheduling module to its expEDIum Medical Billing Software.
The Patient Appointment Scheduling module was built using latest web technologies and designed to effectively manage patient appointments and daily schedule of providers. This module is already available in production and thousands of appointments have been scheduled using this module. A few features of this module are as follows:
- Simple and user friendly interface to schedule & manage Appointments.
- Users can add a new patient when scheduling an appointment or select from existing database.
- Customize Appointment types & statuses at clinic level and assign a preferred color code.
- A default Appointment duration can be configured at clinic level and provider level.
- Each provider can configure own preferred color code, default appt. duration and set a specific duration for appointment types.
- Daily, Weekly, Monthly, Yearly and Agenda View of appointments together with Unit View and Timeline View.
- Appointments can be filtered using providers, appt. types, clinic location, date range and more.
- Appointment tracking/User Trail feature.
- Reschedule appointments based on available future timeslots.
- Block office hours for providers based on appointment types.
-"Agenda View" shows several details of the patients and appointments including patient balance and Insurance eligibility history. Seamless real-time insurance eligibility of a patient or multiple patients (bulk) can be performed from Agenda view.
- Appointments can be exported to a csv or an excel or a pdf file and can be also printed directly.
Carl Thomas, Manager, Customer Service/Interfaces of MD-Reports said, "Scheduling in expEDIum is a pleasure as we can quickly identify confirmed appointments, and look at all patients where eligibility has been verified. The day and the agenda view are extremely useful in managing day to day operations."
About expEDIum Medical Billing Software
iTech's expEDIum Medical Billing (eMB) is a subscription-based comprehensive Web based Practice Management Software. This solution supports both CMS-1500 & UB-04 electronic & paper claims. A few main features of eMB are patient database, patient ledgers, claims import, claim history, claims search, claims validation, rejections & denials management, claims scrubbing, automated ERAs, EOBs, insurance eligibility verification, contracted payer billing, patient statement management feature, invoice, fees schedule, over 60 readymade reports, 30+ dashboards etc. The solution supports multiple healthcare specialties, also has very specific features for EMS/Ambulance billing and Public Health billing. An EHR / ePCR solution can seamlessly integrate using several web APIs to streamline the billing cycle and can build own UX/UI on top of RESTFul APIs.
About MD-Reports
Infinite Software Solutions, Inc. have integrated software solutions for medical doctors. Founded in July 1997 by current President and CEO, Mr. Srikanth Gosike. MD-REPORTS, the flagship product was developed and launched during the year 2000. ISS, Inc. is a medical software solution provider that designs, develops, markets and supports software related to image capture and medical reporting in niche markets.
Carl Thomas
Manager, Customer Service/Interfaces
Phone: 718.982.1315 Ext 18
MD-Reports A Product of Infinite Software Solutions Inc.
Phone: 718.982 1315 Fax: 718.477 3692
www.md-reports.com
About iTech
iTech delivers cost effective and easy to use secure Cloud based Healthcare Solutions and Revenue Cycle Management Services to Medical practices, Hospitals, Ambulatory Surgery Centers, EMS/Ambulance Providers, Billing Service Bureaus, IPAs, ACOs, TPAs, ASOs, and MSOs. iTech has over 1000 providers directly or through partners. We are a leading vendor in the Public Health Clinic space in a State along with one of our EHR Partners. The expEDIum Solutions are available at monthly subscription with affordable and flexible pricing model.
Siva Narayanaswamy
Executive Director & CEO
iTech Workshop Private Limited
Phone: +1. 786.646.0099
Email: contact@itechws.com
www.itechws.com, www.expediumrcm.com
Contact
iTech Workshop Pvt Ltd
Sivakumar Narayanaswamy
786-646-0099
www.itechws.com

Contact