Exercise Through the Continuums of Care Workshop
Improving Exercise Options for Residents in Assisted Living and Memory Care Environments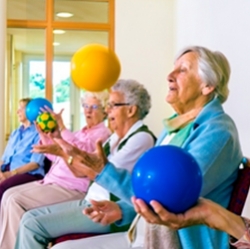 Indianapolis, IN, January 11, 2017 --(
PR.com
)-- The National Institute for Fitness and Sport (NIFS) is offering a brand new workshop for senior living activity professionals who want to expand and improve the exercise program they offer to residents in assisted living and memory care settings.
The workshop will take place from 9am-3pm ET on March 7, 2017 at NIFS, in downtown Indianapolis. Registration is online at
wellness.nifs.org/nifs-workshop-exercise-through-the-continuum-of-care
.
All too often, physical activity for residents takes a back seat to other activities and clinical care. Activity professionals, without formal training in exercise for older adults, may feel limited in what they can offer to the residents they serve, so beach balls and pool noodles become the go-to tools for their exercise program.
According to Emily Davenport, Assistant Director with NIFS, there is a "world of opportunity available to residents in higher levels of care" and she's ready to help activity directors boost their confidence and skills to provide their residents with a more robust exercise program. "That's what this workshop is all about," says Davenport, "providing the education and skills that enthusiastic activity directors need to deliver a first class exercise program."
Exercise is important for managing a variety of chronic conditions including physical ailments like Parkinson's disease as well as mental health concerns like depression. When isolation is a significant risk for seniors, exercise provides an important outlet for socialization as well as physical well-being. Research has also shown that regular exercise can help slow rates of cognitive decline.
Activity Directors are pulled in many directions and they typically do not have a strong educational background in exercise. It can be hard to know how to improve on that element of your programming when you aren't sure where to start. This workshop fills that gap in skills and knowledge by training activity directors to teach a more comprehensive group fitness class. Participants will also learn how to bring in crucial one-on-one fitness opportunities like senior fitness assessments and fee-based personal training into their program menu. Lastly, a section of the workshop will focus on how to build a more holistic activities program that benefits all the residents.
Professionals with the Activities Director Certified credential can earn six CECs from the NCCAP for attending the workshop. Anyone interested in learning more about the workshop can
click here
.
To find out more about Fitness Center Management by NIFS, call (317) 274-3432, e-mail bgarrity@nifs.org or visit wellness.nifs.org. NIFS media contact, Trudy Coler (317) 274-3432, email tcoler@nifs.org.
National Institute for Fitness and Sport is a non-profit organization committed to enhancing human health, physical fitness and athletic performance through research, education and service. 250 University Blvd., Indianapolis, IN 46202.
Contact
National Institute for Fitness and Sport
Trudy Coler
(317) 274-3432
www.nifs.org
250 University Blvd
Indianapolis, IN 46202

Contact