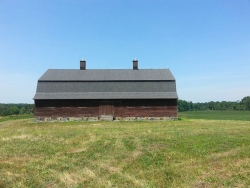 Hanover County, VA, January 12, 2017 --(
PR.com
)-- Located on Walnut Hill Drive in Rockville, VA and designed by artist/gardener Louise Cochrane, the barn at Walnut Hill Farm consists of an archetypal American style - gambrel barn, which is identified by a double sloping roof. Built in 1974, the barn at Walnut Hill appears to be a crossover design between Medieval English and German styles.
Formerly part of a 459 acre parcel owned by J Hardwood and Louise B Cochrane Life Estate, the barn was transferred in 2004 to the Virginia Museum Real Estate Foundation. A parcel which includes the barn was conveyed in 2014 to Mike and Nea May Poole. With permits in hand, says Nea May, "Mike and I as LEED AP who have designed several silver and gold multi-family projects are excited about integrating green technologies into a personal project, conversion of a 20th century archetypal American barn into our 21st century home." Partnering with Poole & Poole Architecture are Portico Classic Homes construction, Jeld Wen windows and Louisiana Pacific siding and structural wood products.
As an eco-advocate and consultant Sylvia Hoehns Wright had the privilege of hosting a video interview with Nea May and the 'late' Louise Cochrane. "I knew what I wanted so I sketched it," said Louise. Through combining her artist eye with the skills of landscape gardening, she designed and positioned the barn as an aesthetic view from her home's front porch.
If you have interest in a project that converts a structure from an "artist to architect eye" or information/stories to share related to the Cochrane family use of this barn or stories to share related to similar projects or events, contact Sylvia@TheWrightScoop.com. A Facebook group – the barn at Walnut Hill has been established. Join, post and share. Create a resource for those who are involved in similar projects nation-wide.
About the Wright Scoop – Sylvia Hoehns Wright provides speeches and workshops for national and international conferences such as the All Cities Congressional City Conference held in DC and PLANET's Green Industry Conference held at Louisville, Kentucky. To view details, visit web site www.TheWrightScoop.com.
About Poole & Poole Architecture, LLC - Located 3736 Winterfield Road, Suite 102 Midlothian, Virginia is well-known for its specialty multi-family and single family design. They practice throughout the southeast and have small offices in Nashville and Charleston. For details, contact v. 804.225.0215 or visit web site www.2pa.net.