SolarCraft Completes Solar Power Installation at Robert Young Estate Vineyards & Winery - Sun Shines on Alexander Valley Vineyard
Novato and Sonoma based SolarCraft announced the completion of a 190 kW solar electric panel system at Robert Young Estate Vineyards & Winery in Geyserville, CA. This historic Alexander Valley property is now powered by renewable, clean energy while enjoying lower utility costs.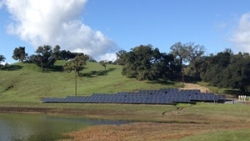 Novato, CA, January 13, 2017 --(
PR.com
)-- Now, with a 190 kW solar power system, electrical use on all contiguous parcels of the 450-acre estate will be offset. In other words, with virtual net metering, most energy usage by Robert Young Estate winery, vineyards, residences, and other buildings will be offset by solar energy. This solar power system will immensely reduce the carbon footprint on the estate and save millions of dollars over many years of operation.
Jim Young, CEO of Robert Young Estate Vineyards & Winery said, "This solar array system is an important part of our continued commitment to farm and produce wines sustainably for generations to come."
The solar photovoltaic system is ground mounted on a small hillside at the west end of the vineyards and consists of 582 SunPower high-efficiency 327-watt solar panels. The system's solar panels convert sunlight directly into electricity and is expected to generate approximately 315,207 kilowatt hours of emissions-free electricity each year, eliminating most of their electrical costs.
The system's solar electric panels allow the Winery to generate enough electricity to spare the air more than 12 million lbs. of C02 gases annually. Over 30 years, the air pollution saved will be equivalent to eliminating over 20 million miles of driving. That's comparable to the air pollution removed by 106 acres of trees.
About Robert Young Estate Vineyards & Winery
Immigrating from upstate New York to California for the Gold Rush, Peter Young, grandfather of Robert Young, settled on a 206-acre ranch southeast of Geyserville, California in 1858. He was among the pioneers who literally built the community of the Alexander Valley. From wheat and cattle to prunes and now wine grapes, throughout six generations, the Scions of Robert Young have sustained a unique balance of dedication to and preservation of the land.
SolarCraft, a 100% Employee Owned Company, is one of the most trusted and experienced solar energy contractors in California. Since 1984, this certified Green Business has been providing high quality solar electrical, solar pool heating and solar water heating services to homeowners and businesses, employing licensed and certified solar installers. With more than 6,000 satisfied customers and over 3 million square feet of solar collectors installed, SolarCraft is committed to Quality Design, Quality Materials and Customer Service.
www.solarcraft.com
Contact
SolarCraft
Kim Burnett
415-382-7717
www.solarcraft.com

Contact