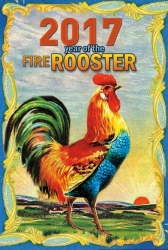 Los Altos, CA, January 18, 2017 --(
PR.com
)-- The Year of the Fire Rooster begins January 28th, 2017. The overall conflict between people will decrease this year and the aggressive actions of the Year of the Monkey will dissipate as the Rooster enjoys group activities and gatherings.
Regarded in mythology as an intensely dignified creature of bold opinion, his comb atop his head likened to a general's hat, the Rooster crows the break of dawn and is divinely ordained as the herald of the gods. His voice is bold and strong, acting as the harbinger of a new dawn. Brazen in the expression of their opinions, some conflict may still arise this year, though less intense than that of the past year. The added quality of the Fire element takes us along a path of adventure and innovation ridden with dynamic speech and action.
Economically, the Year of the Rooster will be more lucrative than the past two or three years thanks to the presence of the Double Wealth Star, beneficial not only for regular finances but also for gambling, speculation, or any side income. Be vigilant for opportunities, especially in business. As for investing, it is a very good year overall, particularly early in the year.
Also this year we can expect to see more scandals regarding relationships in politics and entertainment. Increased promiscuity will lead the gossip magazines and tabloids to run over with articles. More importantly, because this star activates the Water element this year, we are susceptible to water pollution disasters.
The Chinese Zodiac has 12 animal signs, each with a different character and significance. Unlike Western astrology, Chinese astrology is based on birth year, not birth month. Moreover, its focus is on the concept of fate, and then working toward altering difficult forecasts within your predicted fate and enhancing good fortune.
Traditionally everyone gets a new charm to optimize good fortune, get in alignment with the new energy of the year and symbolize a new beginning. Chinese folkloric tradition recommends that every sign carry a three-dimensional Lucky Jade Animal Charm for the year, this year's animal being the Dragon. Lighthouse's 2017 Predictions are live at
www.FengShuiShopper.com
and give readers detailed adjustments and timing for the year ahead.