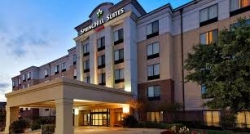 New York, NY, January 24, 2017 --(
PR.com
)-- Trinity Street Capital Partners (TSCP) (
www.trinitystreetcp.com
), a full service real estate investment bank, announces the origination of a $13MM first mortgage on two limited service, hospitality properties located in New Bern, NC. The properties were branded as a Hampton Inn, a Hilton product and Springhill Suites a Marriott extended stay product. The non recourse mortgage had a 10 year fixed term, 30 year amortization period, 75% loan-to-value, with no personal guarantees.
New Bern, NC is located at the confluence of the Trent and the Neuse rivers, near the North Carolina coast and has a population of approximately 29,000. It lies 112 miles (180 km) east of Raleigh, 87 miles (140 km) northeast of Wilmington, and 162 miles (261 km) south of Norfolk. New Bern is the birthplace of Pepsi Cola and in 2005, a segment of NBC's The Today Show noted that New Bern was one of the best places in the United States to retire.
According to a senior originator at Trinity Street Capital Partners, Mr. Anthony Zavala, "the availability of non-recourse, hospitality financing in tertiary markets continues to remain limited given the rampant new supply of hotels rooms being added across the country." Despite the challenging conditions, TSCP was able to establish that the unique location, significant barriers to entry for new construction and outstanding management, warranted the origination of the high leverage loan. The principals of Trinity Street Capital Partners have been financing such hospitality franchises, as Hilton, Marriott, Wyndham, Choice, Starwood, Hyatt and Intercontinental Hotels Group (IHG), for the last 20 years and are committed to expanding its hotel finance business.
Trinity Street Capital Partners focuses on non-recourse, high leverage senior & subordinate debt and preferred equity, with investments starting at $5MM on income producing retail, office, industrial, multifamily, manufactured housing communities, self-storage and hospitality properties located throughout the continental United States. (
www.trinitystreetcp.com
)
The Firm is a leader in providing permanent mortgages and equity for wide range of real estate transactions.
Trinity Street Capital Partners, is wholly owned subsidiary of Trinity Street Holdings, a financial services conglomerate. (
www.trinitystreetholdings.com
)
For more information about Trinity Street Capital Partners and the services it provides, go to
www.trinitystreetcp.com
.