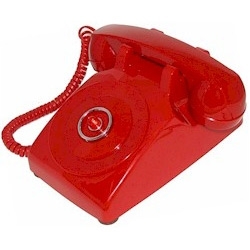 Milford, CT, February 01, 2008 --(
PR.com
)-- When there's trouble in Gotham City, Police Commissioner Gordon calls caped crusader Batman, the secret alter ego of millionaire Bruce Wayne.
At Wayne Manor, the flashing red Batphone is answered by Alfred the butler, who tells Wayne about the trouble. Then Wayne and his young ward Dick Grayson put on their superhero costumes. As Batman and Robin, they race from the Batcave in the Batmobile to battle evil-doers, or rescue citizens in distress.
Now everyone can have a bright red flashing Batphone just like a superhero. When an emergency call - or even an ordinary call - comes in, a bright red light centered in a shiny chrome ring starts flashing to attract attention.
This new phone, just developed by AbleComm, Inc., has classic sixties styling, with heavy-duty construction, and a two-year warranty. It gets all of its power from the phone line, and doesn't require a power cord or batteries.
The phone rings when the light flashes, unless a purchaser prefers the bell to be disconnected, or an optional buzzer to be installed instead of the bell. Price with the bell is $112, including shipping to all 50 states.
Order online at
www.RedHotPhones.com
, or call toll-free 1-888-225-3999.
###
RedHotPhones.com is part of AbleComm, Inc. -- "the Telecom Department Store." AbleComm is based in Milford, CT and operates over 30 websites and has been in business over 30 years. The company supplies a wide range of phone equipment to customers ranging from homeowners and entrepreneurs to major corporations, government agencies and the military.